In today's fast-paced and constantly connected world, achieving a healthy work-life balance can be a challenge. The pressure to excel at work, manage family responsibilities, and maintain social connections can leave little time for rest and relaxation, which can lead to exhaustion and burnout.
That's where a yoga retreat can come in as a sanctuary for the mind, body, and soul.
It provides an opportunity to step away from the chaos of everyday life, disconnect from technology, and focus on your physical and mental well-being. By immersing yourself in yoga practice and the natural beauty of a retreat location, you can recharge your batteries, gain perspective on your life, and return home feeling refreshed and renewed.
A yoga retreat is not just a vacation, it's a chance to restore balance to your life and find a greater sense of peace and harmony within yourself. From tropical beaches to mountain retreats, the world is full of beautiful and serene destinations where you can immerse yourself in yoga, make new connections and deepen your practice.
If you're looking for a chance to escape from the stress and chaos of everyday life, unwind and focus on your well-being, then a yoga retreat may be just what you need. Whether you're a seasoned yogi or a beginner, there's a retreat out there that's perfect for you.
In this article, we'll take a look at 10 of our favourite unique and fulfilling yoga retreat experiences from BookYogaRetreats.com that will leave you feeling revitalised, empowered and with a greater sense of peace and harmony within yourself.
1. 4-Day Experience Balinese Culture with Meditation and Yoga Retreat in Bali, Indonesia
Imagine waking up every morning to the invigorating freshness and vitality of tropical nature, followed by a rejuvenating yoga and meditation session. Bali Garden Retreats in Tabanan offers a serene and peaceful atmosphere to practice, surrounded by breathtaking mountain views and Balinese architecture.
A range of off-site activities are included in the package such as village excursions, treks to waterfalls, daily cultural activities and afternoon beach yoga sessions.
Take a break from the stresses of daily life and spend your days indulging in relaxation, joy, and revitalisation. The program includes yoga, pranayama, meditation, ceremonies, and soulful self-care, all designed to bring you bliss, peace, and an unforgettable experience.
2. 5-Day Inclusive Luxury Yoga Villa Holiday in El Campello, Alicante, Spain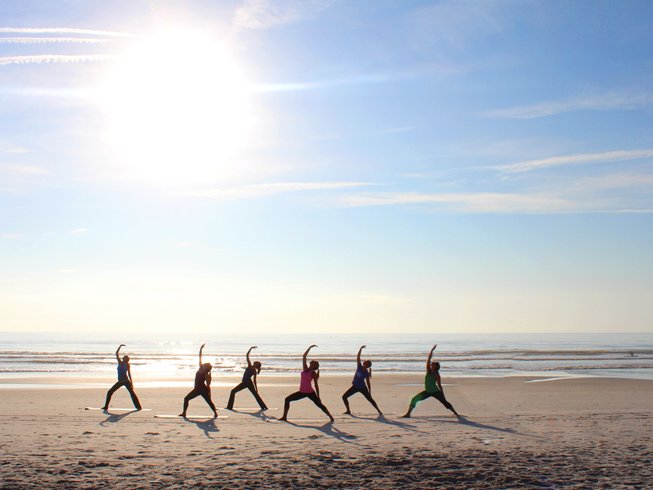 This five-day coastal yoga holiday package at a beautiful country manor house on Spain's Costa Blanca offers the perfect combination of relaxation, yoga, and vacation. With the promise of heavenly sunshine for 320 days of the year, this paradise location is perfect for those looking to unwind and recharge whilst soaking up the sun.
Be treated to a champagne reception and enjoy activities such as two yoga classes per day, moonlight gatherings, excursions and a Spanish cooking class. With a heap of amenities onsite – such as a swimming pool, jacuzzi, gymnasium, chill-out zones, massage and treatment rooms, and designated art areas – you're spoilt for choice on how to spend your free time. This is the perfect holiday for yoga lovers who want to completely relax with no strict schedules.
3. 8-Day Yoga and Meditation Vegan Wellness Retreat in Koh Phangan
Escape to a magical tropical sanctuary of healing and rejuvenation at Wonderland Healing Center in Koh Phangan, Thailand. Offering a diverse range of yoga, Tai Chi, Qi Gong, healing workshops and meditation classes, the program is designed to provide a holistic experience so you can have a deeper connection with your body, mind, and spirit. With classes suitable for all levels of fitness, you're sure to find the perfect balance for your practice.
For those looking for a little more activity, there are several stunning waterfall hikes nearby, not to mention pristine, white sandy beaches offering water sports or diving. If you're up for a challenge, the majestic Khao Ra Mountain can be hiked from the healing center's backyard.
As you bask in the tranquility of their luxurious facilities, don't forget to take a dip in the outdoor pool, renew with a Thai massage or indulge in the herbal steam sauna. We guarantee you will finish your retreat feeling on top of the world!
4. 6-Day Awakening Yoga Holiday in Kandy, Sri Lanka
Find yourself in the peaceful Knuckles Mountain Range of Sri Lanka and discover the beauty of nature at Welikande Estate. This cozy and welcoming eco-conscious retreat offers all-inclusive yoga getaways designed to help you reconnect with your inner self and find peace within. Experience sunrise and sunset yoga sessions overlooking panoramic views of mountains and Victoria Lake.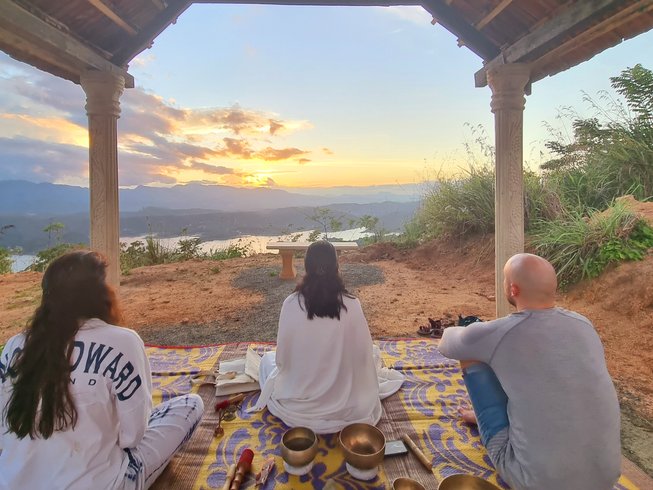 Enjoy guided hikes through the Heeloya National Park, divulge in a traditional ayurvedic massage and be treated to a refreshing swim at nearby waterfalls. In your free time, there are local guides at the estate who are happy to bring you on tours of the temples, botanical gardens and tea plantations in the region.
Whether you're seeking rest, activities, or just a good laugh, the retreat provides the perfect balance of relaxation and fun. Explore the breathtaking views or participate in a variety of adventures to recharge your mind, body, and soul. We're sure that after one week at Welikande Estate, you will leave feeling lighter, grounded, and more connected with your true self.
5. 8-Day Hiking and Yoga Holiday in the French Alps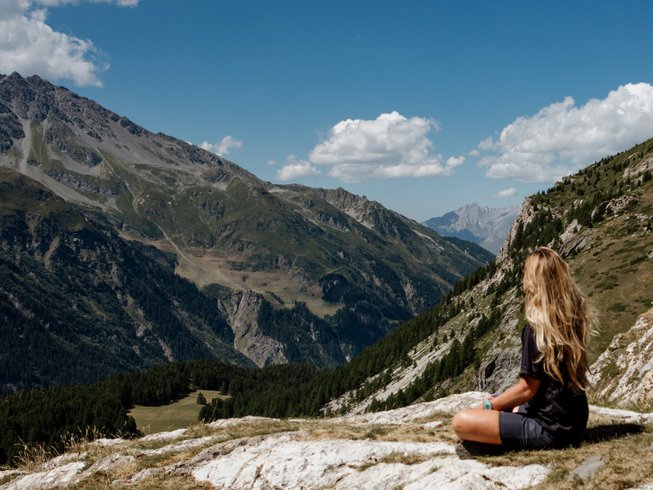 Pack your hiking gear and get ready to nourish your soul on this mountainous paradise retreat in the French Alps. Stay in a charming and peaceful mountainside French village situated 1,300 metres above sea level, overlooking the majestic Three Valleys ski area and just a short 20-minute drive from the town of Moutiers. You'll be treated to daily yoga sessions, meditation time, plenty of guided hikes throughout the week, and breathtaking mountain views.
The highlight of your week will undoubtedly be the delicious vegetarian meals, cooked with love by the owner of the venue and host for the week, Nikki. The schedule also includes free time for you to get a massage, visit the local farmers market, participate in a cooking class, relax at a nearby wellness spa, or simply unwind with a good book and take in all the glorious mountainous fresh air.
6. 7-Day Yoga, Meditation and Nature Retreat in Taghazout, Morocco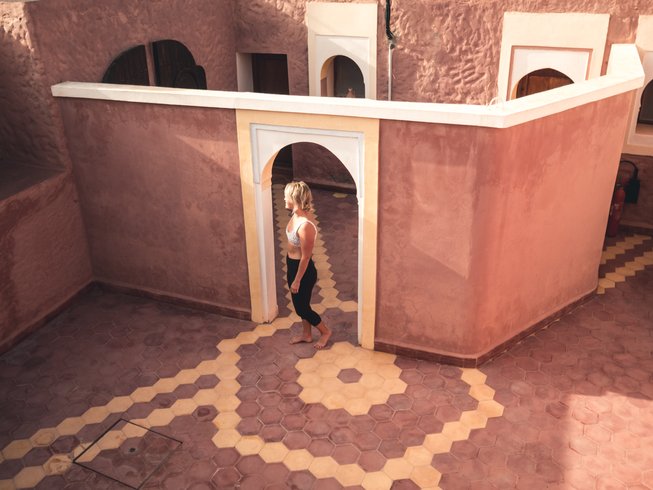 Experience breathtaking sunrise and sunset views from the rooftop yoga shala at Villa Dar Shajara – a traditional Moroccan riad – overlooking the Atlas Mountains and the Atlantic Ocean. Immerse yourself in daily yoga practice with the rugged mountains and roaring ocean as your backdrop.
The retreat offers multiple opportunities throughout the week to integrate yourself into local culture by joining the weekly excursions to nearby Berber villages. This includes a Moroccan sensory journey to the local markets, where you can indulge in the rich flavours and scents of the local cuisine.
Don't forget to pack your swimwear, there will be plenty of opportunities to take refreshing dips in the pool while basking in the warm Moroccan sun. In the evening, enjoy delicious meals and cozy moments around the traditional fireplace, and stargaze at night under the bright Moroccan sky.
7. 8-Day Mindfulness, Walking and Yoga Retreat in Aliki, Paros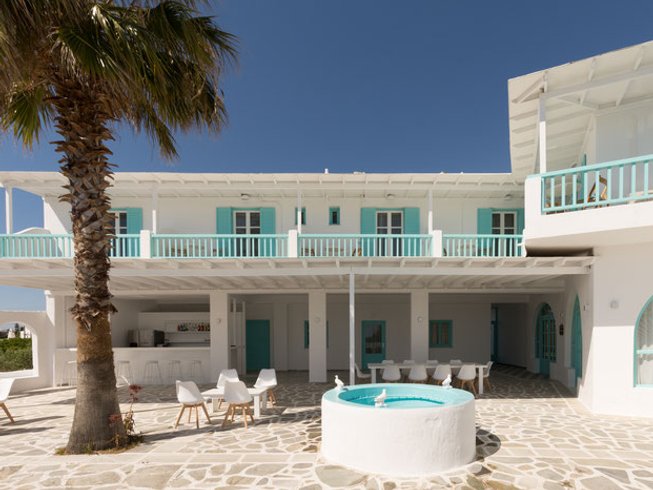 Planning a summer island getaway? Treat yourself to a truly invigorating experience in the breathtaking Greek island of Paros in the Cyclades. Leave the stress and worries of everyday life behind and join Rosanna Yoga for a week of rejuvenation, adventure, and fun in the sun. Whether you're a seasoned yogi or new to the practice, be guided through inspiring and restorative sessions that will leave you feeling energised and refreshed.
And it's not just about yoga – take in the stunning views of the beach and mountains from the contemporary beachside Aliki Panorama Hotel, relax on the sun beds by the outdoor pool with a drink, take a leisurely stroll through the town, or simply unwind in the chill-out terrace areas with a massage.
8. 7-Day Love Yourself Retreat in the Arenal Rainforest, Alajuela, Costa Rica
Are you ready for an authentic and transformative experience in the heart of Costa Rica's tropical rainforest? Immerse yourself in the breathtaking natural surroundings of Essence Arenal in El Castillo while practicing yoga and meditation.
Let the sounds of nature be your soundtrack as you ground yourself in the organic permaculture farm and nourish your body with functional organic smoothies and gourmet vegetarian farm-to-table cuisine. With guidance from certified naturopaths and yoga instructors, this retreat offers a perfect opportunity to renew your body, mind, and spirit.
Other activities on offer include hiking through lush forest trails leading to hidden waterfalls and luscious hot springs, horseback riding, hanging bridges and canopy tours, and night wildlife tours – all while surrounded by the breathtaking beauty of the rainforest. Don't miss out on this unique and unforgettable experience!
9. 10-Day Ayurveda, Wellness, Meditation and Yoga Retreat in Rishikesh, Uttarakhand
At Yogada Ashram, you will be able to nourish your mind, body, and soul with ancient wisdom and practices. This wellness retreat is the perfect escape for those seeking to disconnect from the stress of daily life and reconnect with themselves in a serene and spiritual environment.
Experience a variety of yoga and meditation practices with highly experienced teachers, as well as Ayurvedic treatments and massages to rejuvenate your body. You will also have the opportunity to explore the natural beauty of the Himalayas through hikes, treks, and outdoor activities.
At night, you will fall asleep to the calming sounds of the Ganga river, feeling at peace and in harmony with the natural world around you. Yogada Ashram is the ultimate destination for those looking to deepen their yoga and Ayurveda practice in the birthplace of these ancient teachings.
10. 7-Day Ocean Flow Yoga and Meditation Retreat with Mayan Jungle and Beach Adventures in Paamul, Mexico
If rooftop sunrise and sunset yoga practices overlooking the beautiful Caribbean Ocean is on your bucket list, you can't miss out on Copal Retreat in Paamul, Mexico. Copal Retreat offers the perfect blend of yoga practice, adventure and relaxation, allowing you to truly personalise your retreat experience.
In addition to the yoga and meditation practices, there are plenty of other activities to enjoy during your stay. Go snorkelling in the nearby coral reefs, take a bike ride through the lush jungle, or visit the nearby Mayan ruins. If you're feeling adventurous, try a zip line tour or a swim in a cenote, a natural freshwater pool. For those who simply want to relax, there is ample time to roll out a hammock and soak in the ocean breeze.

—
Please note that some of the links in this post may be affiliate links and any purchase made through the links will give us a small commission (at absolutely no extra cost to you). These funds help us to keep sharing good vibes through this journal. Please read our Affiliate Disclaimer for more info.