Are you looking for a spiritual escape to rejuvenate your mind, body, and soul? Look no further than Bali, Indonesia – the Island of the Gods. With its stunning natural beauty, rich cultural heritage, and ancient healing traditions, it's no wonder Bali is the perfect destination for a wellness retreat.
Whether you're seeking to detox, de-stress, or simply reconnect with yourself, Bali has something for everyone. In this blog post, we'll explore the 6 best Bali wellness retreat packages for spiritual healing that will leave you feeling renewed and refreshed. So, pack your bags, and get ready for a transformative journey of self-discovery in Bali!
1. 8-Day Emotional Cleansing & Chakra Balancing Retreat
📍 Santhika Dream Hill Retreat Center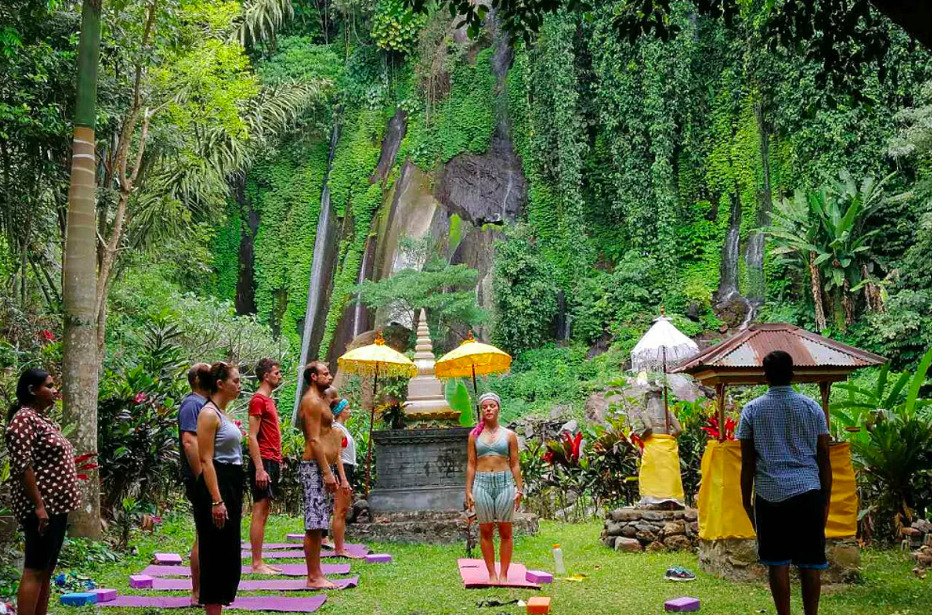 If your chakras are feeling a bit all over the shop lately, perhaps that's a sign to take a break and immerse yourself into an 8-day Balinese retreat designed specifically for emotional cleansing. Santhika Dream Hill Retreat Center in Bali offers a year-round retreat for people from all walks of life.
This retreat offers an ideal environment to reconnect with yourself, especially if you've been feeling detached for an extended period of time. With a focus on releasing emotions, enhancing self-awareness, and utilising aroma psychology, this program guarantees to facilitate your rediscovery.
The retreat package includes a variety of activities such as immersive yoga sessions, rejuvenating spa treatments, and delightful tours of the stunning Bali region. Additionally, each evening will offer unique cultural experiences, ranging from cooking classes and traditional Balinese dance performances to workshops on massage, spirituality, and more.
2. 7-Day "Hridaya" Silent Meditation Retreat
📍 Samyama Mindfulness Meditation Center
The term "Hridaya" translates to "Spiritual Heart" and represents the fundamental essence of your existence. This 7-day silent retreat at Samyama Mindfulness Meditation Center in Ubud is designed to bring you back into intimacy with your heart through silence, yoga and meditation.
For those who are feeling like they are falling out of love with life, this retreat brings you back to your core and helps to open your heart again. The overall program is thoughtfully curated to gradually lead you towards a deeper state of meditation and a stronger connection with your inner self.
The outcome of this experience is not only a profound and rejuvenating break from your daily thoughts; but it also equips you with a set of practical tools that you can utilise to connect with your highest self, even during the most demanding moments of your day-to-day life.
3. 4-Day Inner Peace Yoga & Healing Meditation Retreat
📍 Baliuma Retreats Center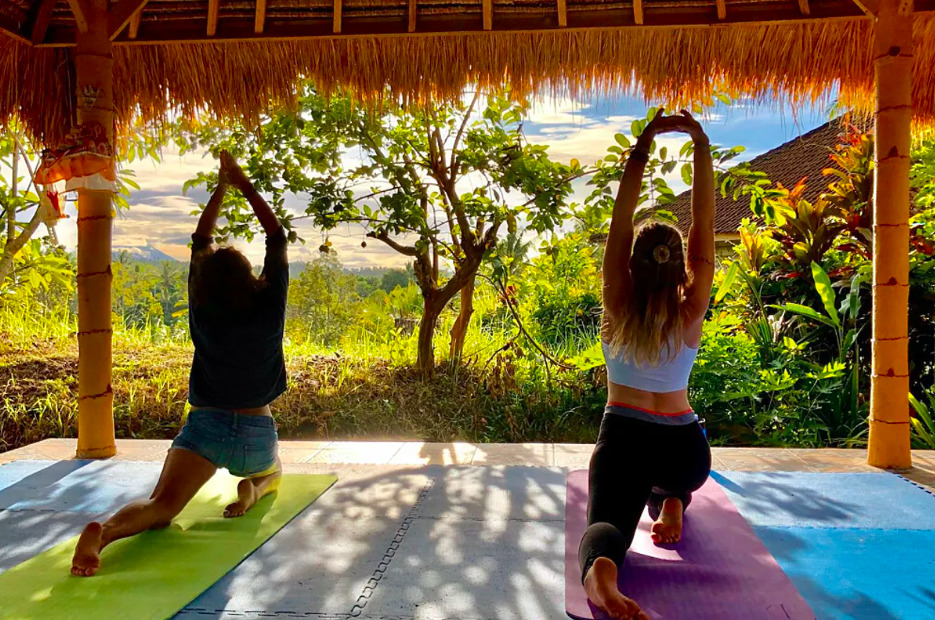 If you're searching for an authentic wellness experience, Baliuma Retreats Center is a tranquil and spiritual oasis situated in a secluded location away from the tourist hubs of Bali. It is the only retreat centre that offers teachings on Traditional Balinese Watukaru Yoga, which is one of the oldest yoga practices in the world. This practice is centred around the internal flow of chakra or kundalini energy, and it emphasises one's spiritual awakening.
This retreat provides you with exclusive access to one of the oldest spiritual ashrams in the world, Pasraman Seruling Dewata. The ashram has preserved all 13 original styles of Yoga exactly as they were created thousands of years ago in the Himalayas, making it a unique and invaluable resource for your spiritual practice.
During the four days at Baliuma, aside from the daily yoga practices, you will have the opportunity to participate in fun cultural or village activities every day. These activities may include rice farming, waterfall purification, coconut oil making, Balinese cooking classes, Balinese language workshops, traditional Balinese dance performances, and many others.
4. 3-Day Breathing Space Retreat
📍 Shakti Wellness Center
Hosted at the lush, tranquil and eco-friendly Villa Mirah Ubud, this transformative 3-day retreat with Shakti Wellness is perfect for inner reconnection, transformation, and healing. The customisable retreat program is designed to suit your preferences and to help you recover from the demands of work or family life.
The main focus of the retreat is to relax, take it slowly, and enjoy the present moment to transform your life. Reconnect with your spiritual and emotional well-being over a stress-free long weekend and tune in to your spiritual needs. The yoga classes will help you build strength and flexibility, while meditation will enable you to connect with your inner power.
During your free time, you can go on a walking or biking tour around the stunning Ubud area or stay in the property and spend time with the local animals and nature. Perhaps a refreshing dip in the outdoor swimming pool is exactly what your soul needs.
Additionally, the retreat offers a range of optional activities, such as energy healing sessions, therapeutic massages, purification, chakra healing sessions, holistic nutrition, 1-on-1 consultations, or life coaching sessions.
5. 7-Day Heavenly Spa & Yoga Awakening Retreat
📍 BaliGreen Retreats
Step away from normal life for a week and experience authentic Balinese culture whilst staying at a tropical healing paradise for physical, emotional and mental wellness. This 7-day retreat package from BaliGreen Retreats has everything you would expect from a tropical spiritual healing retreat. It is the perfect combination of mindful practices, self-pampering and a vacation.
Here, you get to design your own schedule and participate in invigorating activities and yoga classes whenever you feel like it. This program is tailor-made for those who love to live life spontaneously and free from rigid timetables. You'll have ample time to indulge in all your favourite activities and also have enough downtime to unwind and connect with your inner self.
Some of the fun and interactive activities to expect on this retreat include visiting a Shaman for spiritual guidance, Balinese spa treatments, Balinese cultural excursions, waterfall purification, trekking through rice paddies, yoga on the beach, sunrise watching and Balinese cooking classes.
6. 7-Day Finding Balance Yoga Retreat
📍 FireFly Retreat
Imagine yourself surrounded by beautiful rice fields in Ubud, with a breathtaking view of fireflies at night – it's the perfect setting for an unforgettable retreat! And guess what? Firefly Retreat is totally affordable! If you're not after a pricey wellness retreat, but rather a down-to-earth place where you'll be welcomed by friendly and helpful staff, a week at Firefly Retreat may be the perfect option.
The retreat is set in an intimate setting and caters for only up to 15 guests at a time. This allows for personalised attention so you can really get the most out of your spiritual practices. The typical daily schedule includes sunrise and sunset yoga/meditation classes, an excursion or activity during the day, and some free time in between for you to do what makes your soul happy.
Enjoy Balinese cultural activities such as cooking satay and desserts, learning how to plant rice paddies, making coffee and coconut oil, and temple visits. There is also an opportunity to experience the sound healing sessions at the nearby Pyramids Of Chi.

—
Please note that some of the links in this post may be affiliate links and any purchase made through the links will give us a small commission (at absolutely no extra cost to you). These funds help us to keep sharing good vibes through this journal. Please read our Affiliate Disclaimer for more info.