As an avid tarot reader and hobbyist collector, I'm always on the lookout for new decks to add to my collection. I was very lucky and spoiled to have received the DreamyMoons Tarot deck as a birthday gift from a dear friend last year. From the moment I first saw the stunning artwork, I knew that this deck was something special.
In this DreamyMoons Tarot review, I'll be sharing my experiences with the deck, from its beautiful design and high-quality cards to the informative guidebook and overall impression.
So, let's dive into the mystical world of the DreamyMoons Tarot deck.
Quick Links
Design and Artwork of DreamyMoons Tarot
For those of you who are familiar with Instagram, you will have most likely come across DreamyMoons by Annie Tarasova at one point or another. If you haven't, get ready to be taken on a mystical journey through her art.
The artwork of Australian artist Annie Tarasova's DreamyMoons Tarot deck is breathtakingly beautiful and highly detailed. I would describe her hand-drawn illustrations as perfectly stylised with a dreamy and ethereal quality. Her use of bright watercolours balance out the minimal linework and creates a stunning contrast against the black background.
The artwork on the cards are full of intricate details that allow for a deeper level of interpretation, making the deck perfect for intuitive readings. Did I mention there is also gorgeous gold foiling on each card? The foiling adds a whole new dimension to the imagery.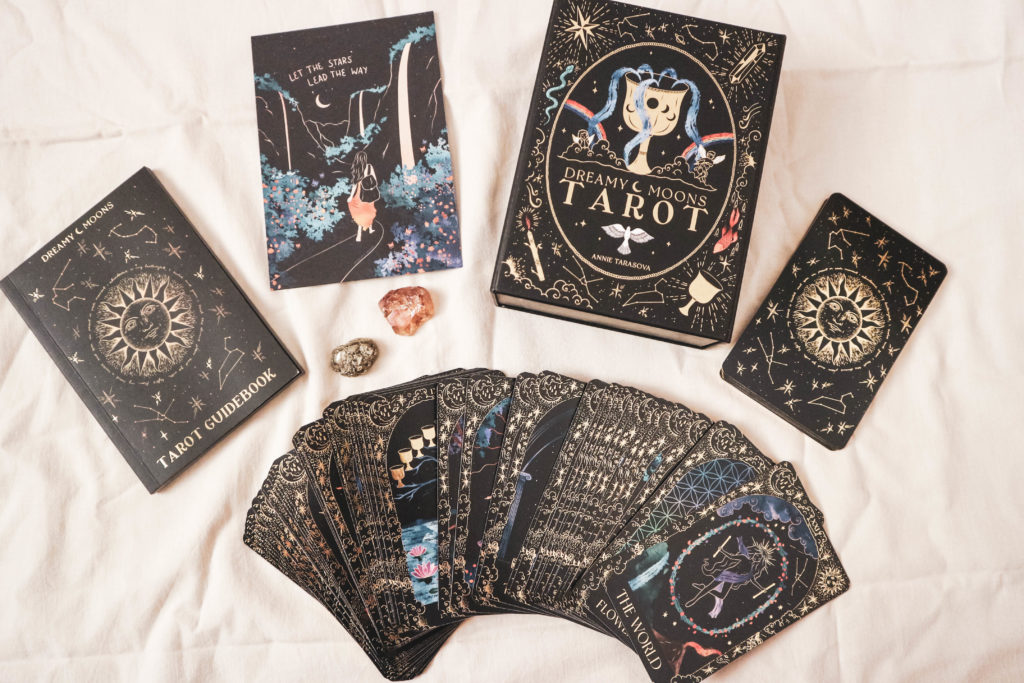 Card Quality and Durability of DreamyMoons Tarot
The tarot cards are a joy to handle thanks to their impressive thickness. They are sturdy and durable, allowing them to withstand frequent shuffling and prolonged use. The thickness also adds a satisfying weight to the cards, making them feel substantial in your hand.
The tactile experience of shuffling and drawing the cards is enhanced by their thickness, adding to the overall pleasure of using them. The sound they make when you shuffle them is seriously ASMR-worthy. You know what I'm talking about, right? That satisfying thud as the cards hit each other…In short, these cards are not only aesthetically pleasing but also well-constructed, making them a fantastic addition to any tarot reader's collection.
Not only do the cards themselves have impressive durability, but you'll also be pleased to find that they come enclosed in a sturdy box, ensuring their safety and longevity.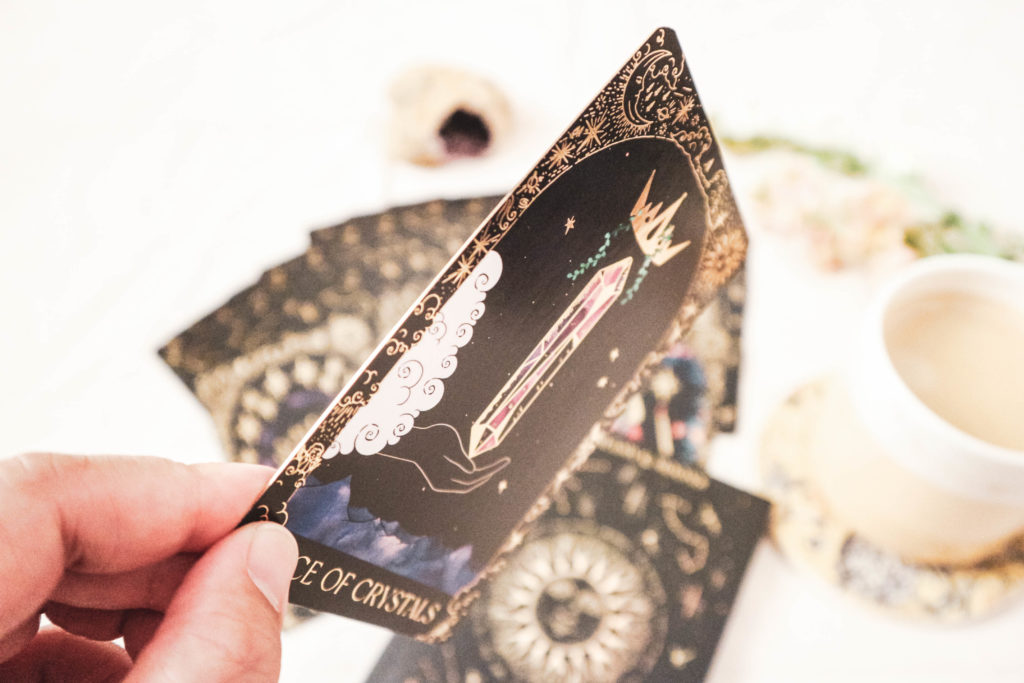 Guidebook and Interpretation of DreamyMoons Tarot
Included with the DreamyMoons Tarot deck is a comprehensive 100-page guide in full colour. This guide not only explains how to use the cards, but also provides helpful spread suggestions and detailed explanations for every card in the deck. It's an invaluable resource for both beginners and experienced tarot readers alike, providing insights and guidance to enhance your readings.
The DreamyMoons Tarot deck strikes a balance between honouring the traditional symbolism of the Rider-Waite-Smith deck and infusing it with celestial elements. While staying true to the original, this deck introduces several notable differences, such as its unique suits. Instead of the Suit of Pentacles and Suit of Swords, it features the Suit of Stars and Suit of Crystals, respectively. Another point of difference is the fact that Annie Tarasova includes two extra Major Arcana Cards: XXII The Self and XXIII The Flower of Life. These changes offer a fresh perspective and bring a touch of magic to the deck.
Overall Impressions of DreamyMoons Tarot
All things considered, the DreamyMoons Tarot deck is an incredibly beautiful and high-quality deck that any tarot reader would be lucky to have in their collection. If you are into tarot, celestial art and sacred geometry, this deck will definitely make your day. With its beautiful artwork and unique suits, this deck offers a fresh perspective while staying true to the traditional symbolism of the Rider-Waite-Smith deck. Supporting an independent artist makes owning this deck even more special. If you're looking for a magical and intuitive tarot experience, the DreamyMoons Tarot deck is definitely worth checking out.
Where to Purchase DreamyMoons Tarot
You can purchase the DreamyMoons Tarot deck directly from the DreamyMoons online store.