The Spirit Animal Oracle, created by Colette Baron-Reid in collaboration with artist Jena DellaGrottaglia, is an insightful and enchanting deck of oracle cards that provides a unique and powerful way to connect with the spirit animals that roam our stunning planet
This oracle deck is composed of 68 matte-laminated cards and is beautifully illustrated with stunning images of animals, insects, fish, and birds, each one imbued with a transcendent archetypal symbolism that holds a deep and enduring message of truth.
The remarkable imagery and dreamy quality of the cards was what immediately drew me in. As an animal lover, I was thrilled to see so many different species represented in such stunning detail. Each card depicts a different animal, beautifully illustrated with intricate detail and vivid colours.
From majestic eagles and fierce panthers to playful dolphins and gentle deer, the variety of animals represented in this deck is impressive. Whether you're an animal lover too or simply appreciate beautiful artwork, these cards are a feast for the eyes. The deck feels like a journey into another world filled with spirit animals and mystical wisdom.
What I love about this deck is that The Spirit Animal Oracle is more than just pretty cards. The messages contained within each card are powerful and insightful, offering guidance and inspiration to those who seek it.
Colette Baron-Reid has created a deck that goes beyond traditional tarot or oracle decks, tapping into the wisdom of the natural world and the spirit of the animals that inhabit it. The messages are positive and uplifting, reminding us of the beauty and magic of the world around us.
Packaged in a beautiful matte keepsake box, this oracle deck includes a comprehensive guidebook that offers over 200 pages of detailed guidance messages. The guidebook is an invaluable resource for anyone looking to deepen their connection with the spirit animals and gain a deeper understanding of the universal meanings and archetypal symbols contained within the deck.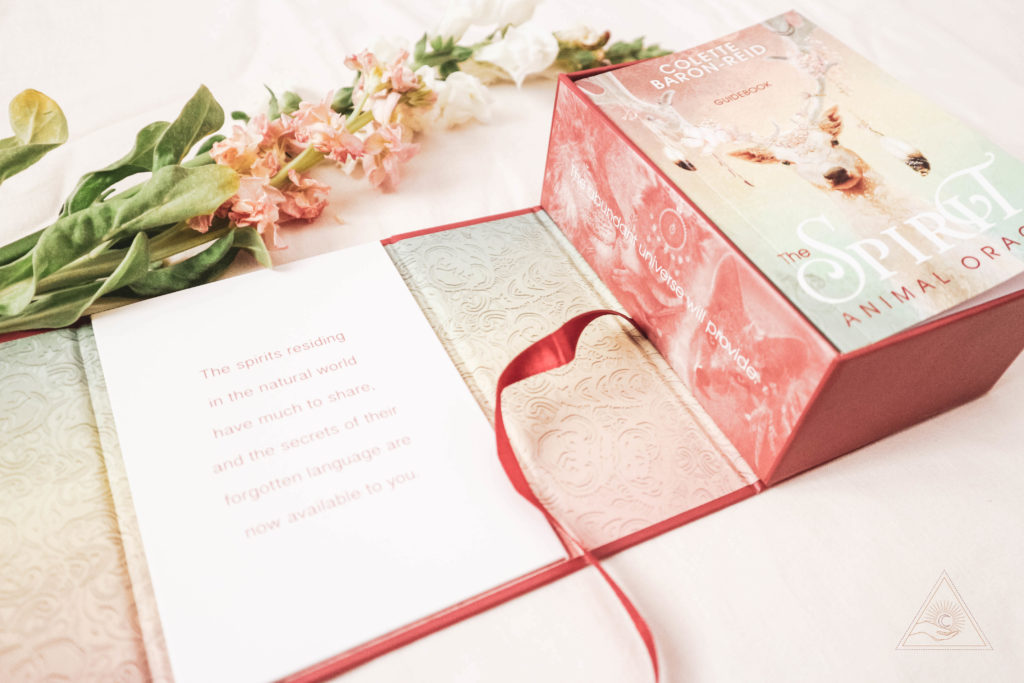 There are two messages associated with each card: An oracle message and a protection message. The oracle message offers insight and guidance on how to navigate life's challenges and opportunities, while the protection message offers a shield of spiritual protection and guidance to help you stay grounded and centred as you move through the world.
The beauty of The Spirit Animal Oracle deck is that it can be used in many different ways, depending on your needs and preferences. Some people use the deck to gain insight into specific questions or situations, while others use it for daily inspiration and guidance.
Personally, I prefer to use the cards as standalone clarifying cards. What this means is that I'll pull a card when I need some extra guidance or clarity on a particular issue, without necessarily doing a full reading or spread.
I find that this approach works well for me because it allows me to stay connected to the energy of the deck and the spirit animals, without feeling overwhelmed or bogged down by a complex reading. Plus, the messages on the cards are always so powerful and insightful, even when I'm only using them in this simplified way.
Of course, there are many other ways to use The Spirit Animal Oracle deck, and you can experiment and find what works best for you. Whether you prefer to do full readings, daily pulls, or use the cards as standalone clarifying cards like me, the wisdom and guidance of the spirit animals are always there to support you on your journey.
Preview of the cards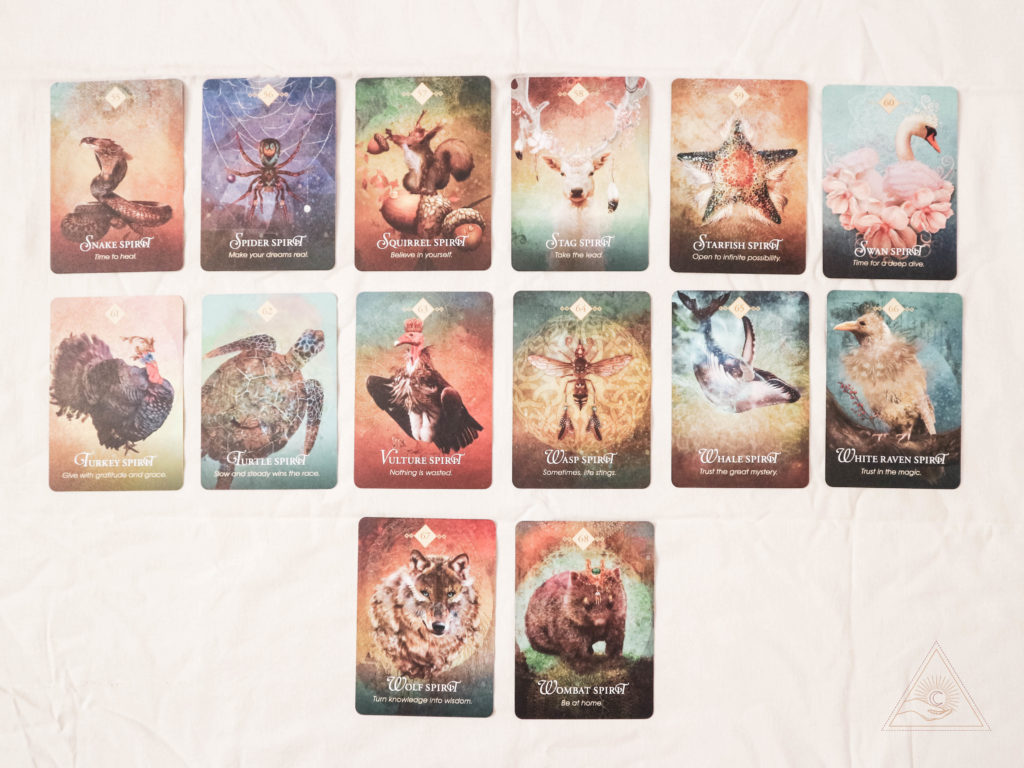 Criticisms
As I've found with most Hay House oracle decks, a potential drawback is the size of the cards. (I'm starting to think maybe it's me, not the cards). Measuring in at 90mm x 127mm, these cards can be quite large, especially for people with smaller hands (like me). It can be frustrating when you're trying to shuffle the cards and they just don't seem to fit comfortably in your hands. While I understand this may be a design choice intended to showcase the beautiful artwork and imagery, it can be slightly annoying at times.
Overall thoughts
I would highly recommend The Spirit Animal Oracle to anyone looking for a beautiful and insightful deck of cards. Whether you're an experienced reader or just starting out, this deck is accessible and easy to use. The messages are clear and easy to understand, while the artwork is stunning and engaging. This deck would make an excellent addition to any tarot or oracle collection, or as a wonderful gift for anyone interested in animals or spirituality.

—
Please note that some of the links in this post may be affiliate links and any purchase made through the links will give us a small commission (at absolutely no extra cost to you). These funds help us to keep sharing good vibes through this journal. Please read our Affiliate Disclaimer for more info.