Tarot card reading has been around for centuries, and it's no surprise that it's still popular today. With so many drop-dead gorgeous tarot card decks floating around, it practically screams "blasphemy" to miss out on the chance to dive into the captivating world of tarot reading.
Embarking on the exciting adventure of tarot reading might seem like a daunting task, but fear not! The internet is here to rescue you. As someone who once began her own tarot journey armed with nothing but a trusty deck of cards and the almighty power of Google, I've got you covered.
Brace yourself for a curated list of the crème de la crème: the top 5 tarot blogs tailor-made for beginners, ensuring you start your mystical exploration with absolute confidence.
Top 5 Tarot Blogs for Beginners
Tarot blogs are an absolute goldmine of knowledge, and the best part? They're free! These treasure troves of wisdom offer everything you need to dive into the world of tarot, from card meanings to various spreads and even nifty tips and tricks for mastering this mystical art.
During my own tarot learning journey, I became a frequent visitor of these invaluable blogs, finding them incredibly helpful. So, without further ado, here's my curated list of the top 5 tarot blogs for beginners.
Biddy Tarot
Every beginner is sure to have come across Biddy Tarot at some point, and for good reason. Biddy Tarot has earned its well-deserved reputation as a go-to resource for novices and seasoned readers alike. It has everything from free training and guides to printables to ignite your tarot practice. Whether you're looking to deepen your understanding of the cards, enhance your intuition, or explore new spreads, Biddy Tarot offers a wealth of resources that will leave you spoilt for choice.
Labyrinthos
Labyrinthos is a true powerhouse of tarot knowledge. I absolutely love their tarot card descriptions, which cover both upright and reversed meanings for love, career, and finances. They even have an app that offers free tarot classes. What sets Labyrinthos apart is their inclusion of not only the traditional Rider-Waite Smith tarot meanings but also Lenormand cards and interpretations. It's a one-stop website for expanding your tarot expertise and exploring new dimensions of card symbolism.
Edelwyn
Edelwyn is one of my favourite websites to visit for tarot card meanings. What sets it apart is that, in addition to the usual card explanations, it includes a section called "as a person." This part gives you insights into the personality traits associated with each card. It's incredibly helpful, especially when I'm doing readings about specific people. The website also provides important information about card combinations, making it easier to understand how different cards work together.
California Psychics
California Psychics has an incredible section on their blog that's all about tarot card spreads. Prepare to be entertained as you explore the variety of spreads that you can follow and try out yourself. Whether you seek guidance on missed love connections or yearn to conquer the formidable writer's block, this helpful resource of tarot spreads is an absolute must-visit.
Aeclectic Tarot
Aeclectic Tarot is the ultimate hub for tarot enthusiasts. The website contains over 2000 tarot card deck reviews and a buzzing Tarot forum that's now unfortunately archived. Dive into discussions about individual cards, explore the meanings behind card combinations, and gain fresh insights from a diverse community of passionate tarot lovers. I found myself referring to the forum a lot when learning about how to read card combinations and it never disappointed.
Final Thoughts
In conclusion, these 5 tarot blogs have been incredibly valuable to my own journey. These free resources have provided me with a wealth of knowledge, insights, and techniques that have transformed my understanding of tarot. From deciphering card meanings to exploring combinations within spreads, these blogs have been invaluable companions.
For beginners, I wholeheartedly recommend diving into these tarot blogs. They offer valuable insights, practical tips, and supportive communities to accelerate your learning and unlock the profound wisdom of tarot. Embrace the journey, trust the process, and let these blogs be your guides to the magical world of tarot. Good luck! ✨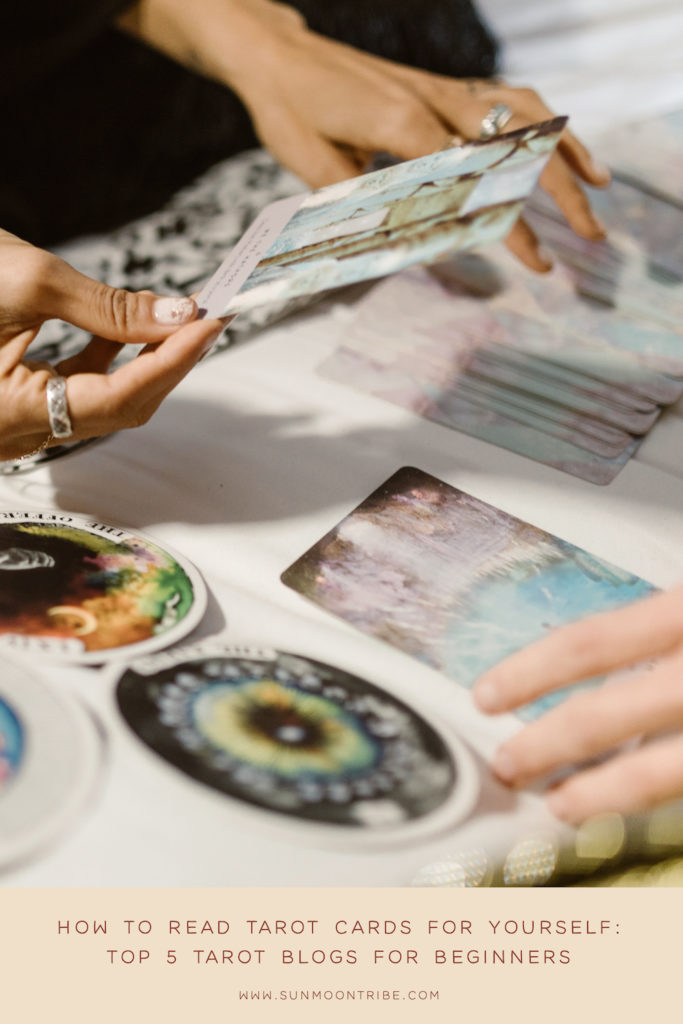 —
Please note that some of the links in this post may be affiliate links and any purchase made through the links will give us a small commission (at absolutely no extra cost to you). These funds help us to keep sharing good vibes through this journal. Please read our Affiliate Disclaimer for more info.