If you're interested in combining your love for Tarot with ethical and sustainable tees, be sure to check out Vegan Outfitters. This UK-based clothing brand is PETA-approved and has just released a new collection of Tarot t-shirt designs that we can't get enough of.
Whether you're looking for a thoughtful gift for a friend or something special for yourself, the Tarot Collection is a great option. Not only are these tees stylish and unique, but they're also environmentally friendly and support cruelty-free practices.
Quick Links
About Vegan Outfitters' Tarot T-Shirts
At Vegan Outfitters, the brand takes pride in ethical manufacturing practices (no sweatshops), ensuring that every shirt is crafted with care and freshly printed in the UK. When it comes to the fabric, their shirts are made from airlume combed and ringspun cotton, which means they're the softest and smoothest tees you'll ever wear.
The shirts are available in a comfortable unisex fit with sizes ranging from X-Small to 2X-Large. Additionally, with the Tarot collection, you can choose from a range of 3-4 shirt colours including Black, White, Grey, and Forest Green, depending on the design.
Vegan Outfitters' new collection of Tarot T-shirts not only make a bold statement, but they also promote animal rescue. Each purchase goes towards donations to animal rescue organisations. With their super-soft tees and quirky designs, Vegan Outfitters is a WRAP-certified brand that offers a guilt-free way to express your personal style while also supporting a great cause.
The Vegan Outfitters' Tarot T-Shirt Collection
Indulge in the mystique of Tarot with Vegan Outfitters' latest collection of tees, each showcasing a unique card artfully rendered to capture its intricate symbolism and rich imagery.
With five unconventional designs inspired by well-loved tarot cards, as well as Vegan Outfitters' own original card, 'The Earth,' this collection is the perfect way to express your individuality while making a statement.
Whether you're a Tarot enthusiast or simply drawn to the whimsical graphic style of these archetypal images, these tees offer a stylish and expressive way to show off your love for the Tarot.
The Lovers
This beautifully designed tee captures the essence of The Lovers. The tee features two figures joined together in a deep and meaningful bond. Whether you're a hopeless romantic or just someone who appreciates great design, this tee was made for the lovers.
The Sun
Based on the powerful image of The Sun, this tee will brighten up your wardrobe and your mood. Whether you're out for a casual stroll or simply wearing your favourite tarot card, let The Sun guide your way.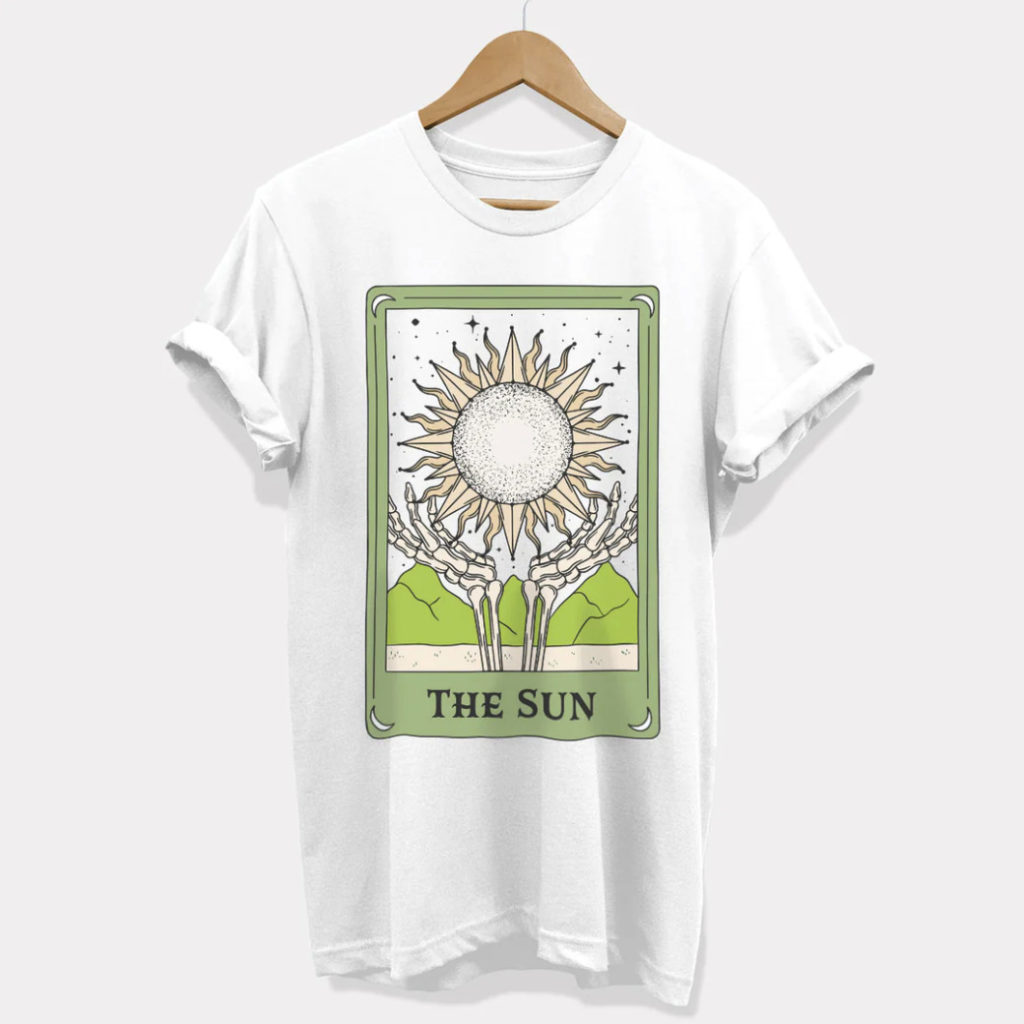 Strength
Like the original Strength tarot card, this tee embodies the message of 'taming the lion'. With its bold design featuring a lion's paw holding a hand, this shirt is the perfect way to show off your inner strength and power. Let this tee be a constant reminder that you've got the strength to take on any challenges.
The Moon
If you're a fan of all things mystical and mysterious, you're going to love this design featuring The Moon tarot card! With its whimsical elements and symbolism, this tee is the perfect way to show off your love for the enigmatic and unknown. Night owls and dreamers – this shirt will have you feeling like you're under the spell of the Moon's enchanting light.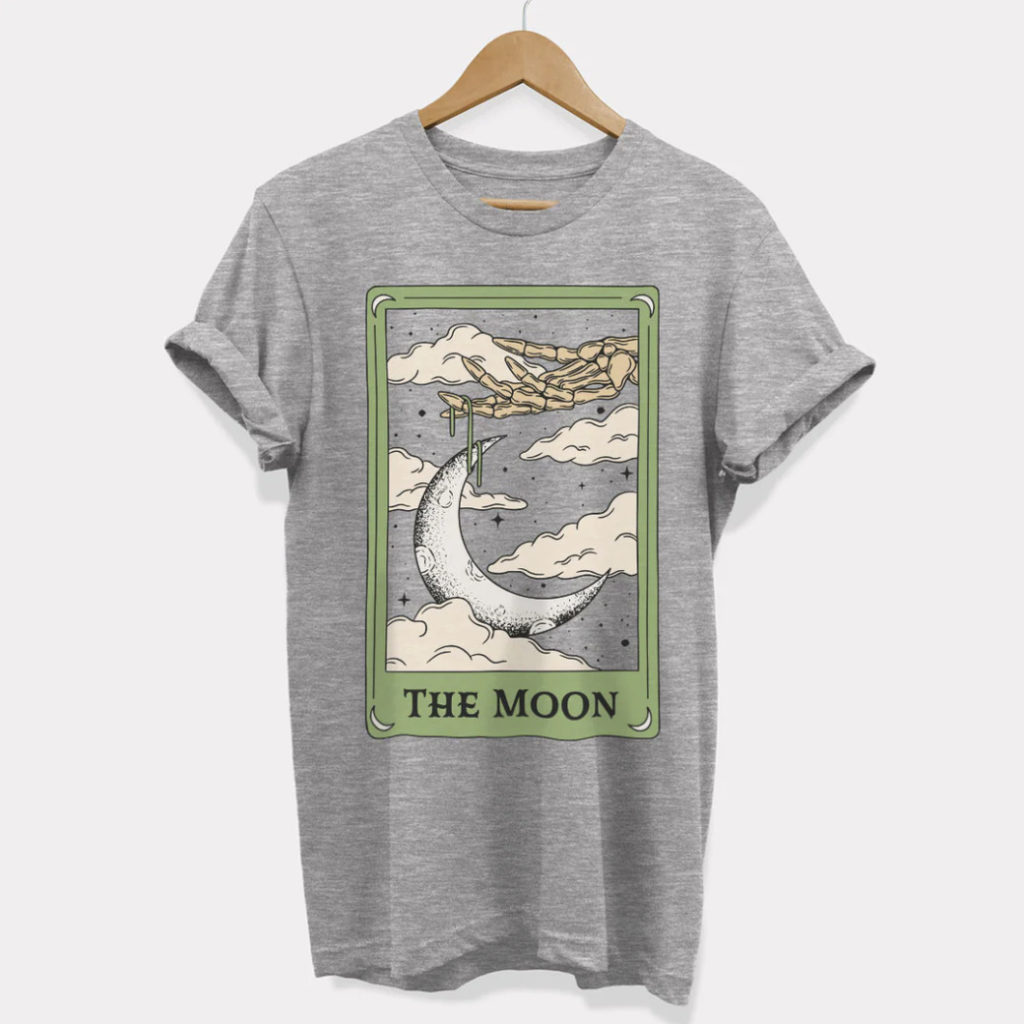 The Empress
Ready to channel your inner goddess? Perhaps The Empress is the one for you. With its gorgeous design and powerful symbolism of growth and abundance, this tee is a creative way to show off your nurturing and feminine side.
The Earth
Vegan Outfitters has included a card of their own – The Earth. The design features a seated skeleton in front of the moon, surrounded by flourishing vines and mushrooms. We are getting Gaia-esque feels from this design and we love it. It's the perfect tee to show your appreciation of both nature and the Tarot.

—
Please note that some of the links in this post may be affiliate links and any purchase made through the links will give us a small commission (at absolutely no extra cost to you). These funds help us to keep sharing good vibes through this journal. Please read our Affiliate Disclaimer for more info.