Looking up at the night sky can be a mesmerising experience. The stars twinkling in the dark sky can transport you to a different world of infinite possibilities and endless wonders. If you're someone who enjoys stargazing and admiring the constellations, then creating your own free star map is a great way to bring the beauty of the night sky into your home.
Creating your own free star map is easier than you might think. There are several websites that offer this service for free, and all you need to do is input the date, time, and location of your choice. You can choose to include constellations or not, depending on your preference. We're going to show you how to create your own star map using one of our favourite services called Didiendo.
Let's create a free Star Map
The Didiendo Star Map generator is our top pick for creating a free star map thanks to its user-friendly interface and customisable features. You can select a specific location, date, and time to generate a unique and accurate star map. If you wish to customise the map with more details and features, there is a premium version you can upgrade to. But for those who are just curious to see a star map of a particular event, this star map generator is a very helpful tool.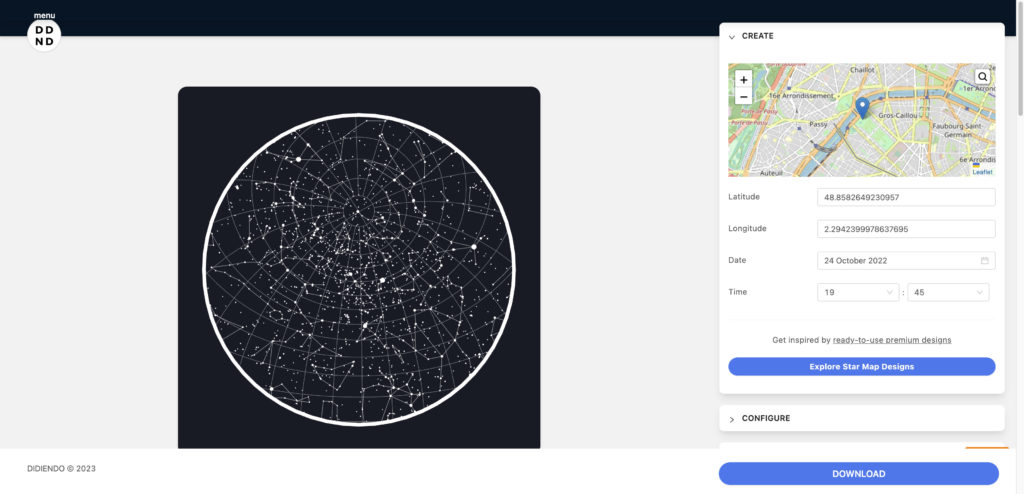 The only downside to Didiendo's Star Map generator is that you have to manually input the latitude and longitude coordinates, which – let's face it – nobody really knows much about unless you're an avid explorer. But we've found the perfect website to give free coordinates at GPS Coordinates.
Let's Begin!
We're going to use the following event details to make our star map:
Location: Eiffel Tower in Paris
Date: 24 October 2022
Time: 7:45 PM
Finding Latitude and Longitude Coordinates for the Star Map
Latitude and Longitude | GPS Coordinates
To find the latitude and longitude of your location, head to the GPS Coordinates website and input your location. You will be offered a dropdown menu of all possible matches for your input. Once you've got the right one, the app will generate the coordinates for you.
Let's put in 'Eiffel Tower Paris'.
Yep, that's the one! Our results are:
Latitude: 48.8582649230957
Longitude: 2.2942399978637695
Perfect, now we can get started on making the star map!
Creating the Star Map
Star Map Generator | Didiendo
Making the star map in Didiendo is pretty simple and fun. Enter all your details into the 'Create' box and the star map will automatically generate as you type.
You'll have options to configure whether you want the constellations, grid and frame shown or hidden. Didiendo offers many other customisation options in the premium version but if you're just after a star map for your own personal use, the free version is fine in itself. In our example, we're going to leave everything as is and proceed to download.
Once you're happy with your star map, simply click 'Download' and it will be downloaded onto your computer in PNG format.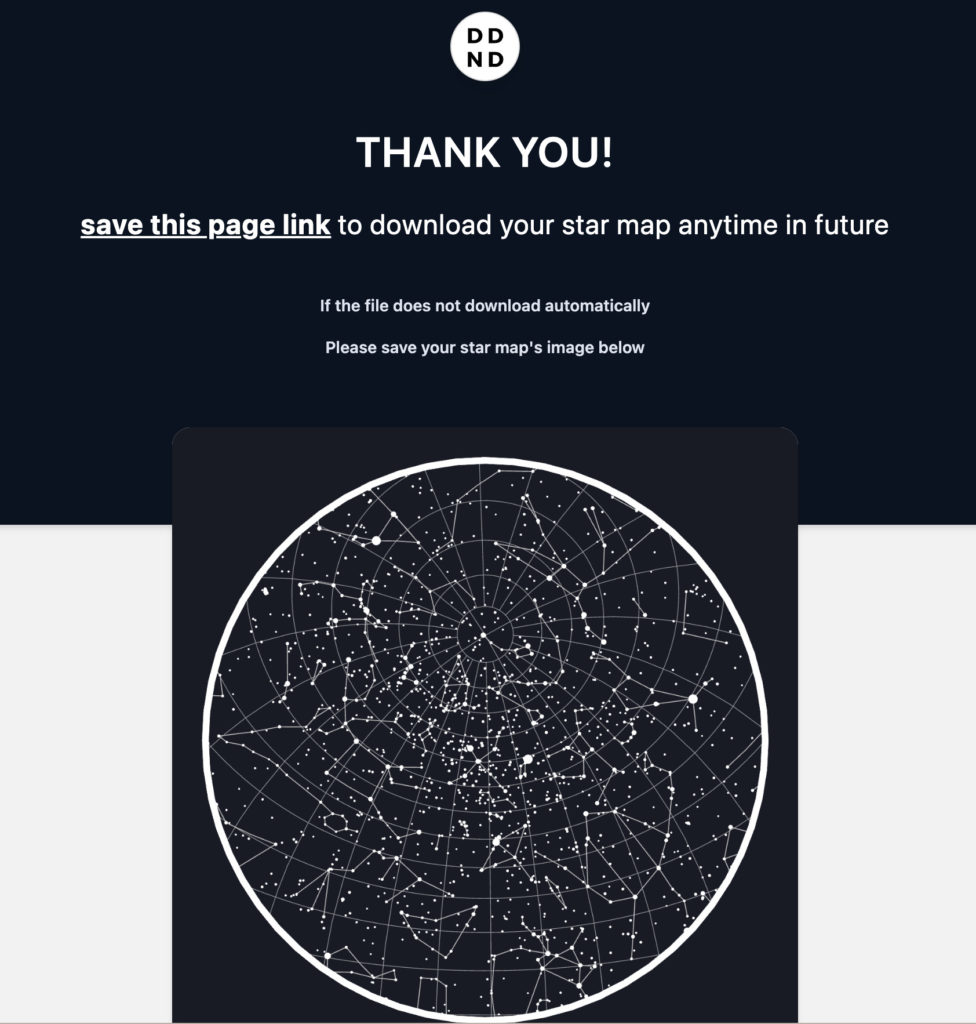 And there you have it – your very own star map saved to your computer in minutes!
What to do with a Star Map?
Once you've created your free star map, you can print it out and frame it for display in your home or office. It can also make for a unique and thoughtful gift for friends or family who share your love of stargazing. If you know how to use the free design software Canva, you can create your own posters with the downloaded star map file.
Not computer savvy? No worries, simply print out your star map as it is and use it to make handmade cards, posters and gifts. It can also be used in journalling and pretty much anything you can think of.
Creating your own free star map is a fun and easy way to bring the beauty of the night sky into your home. With just a few clicks of a button, you can customise your map and include constellations for an even more immersive experience. So why not give it a try and see what wonders you can uncover in the stars above?

—
Please note that some of the links in this post may be affiliate links and any purchase made through the links will give us a small commission (at absolutely no extra cost to you). These funds help us to keep sharing good vibes through this journal. Please read our Affiliate Disclaimer for more info.