Get ready to be swept away by the beauty of the ocean with Wanderlust + Co's latest Spring/Summer 2023 collection, To The Sea. This stunning collection features twelve unique designs, each crafted with precision and care using 925 sterling silver and the brand's signature recycled brass base plated in 14K gold.
Each Wanderlust + Co piece embodies a sense of heart and purpose that seamlessly blends style, quality, and sustainability. Handcrafted by the brand's skilled female artisans, every jewel is infused with positive daily mantras, providing a constant source of inspiration and empowerment for those who wear them.
Founder Jenn Low envisioned a collection filled with hope and positivity, with every piece drawing inspiration from the soothing textures and vibrant hues of the sea. The pieces in the collection showcase intricate details, with baroque and mother of pearl accents that perfectly complement the sea-inspired designs.
From delicate seashell pendants to intricate body and waist chains, each piece is a true work of art that pays homage to the natural beauty of the ocean. Read on to discover our top picks from this gorgeous collection and add a touch of the ocean's magic to your jewellery collection.
Suncoast Gold Ring
Elevate your style with the stunning organic-shaped pendant ring, featuring a lustrous freshwater pearl and a dazzling gemstone at its centre, evoking the image of a hidden pearl within a seashell. This beautiful ring can be worn on its own for a touch of understated elegance, or stacked with other rings to create a bold and unique look.
Suncoast Gold Earrings
Unleash your inner beach goddess with the Suncoast Gold Earrings – a perfect mix of elegance and nonconformity. These one-of-a-kind earrings feature organic-shaped pendants, each adorned with a gorgeous freshwater pearl and a stunning gemstone at its centre, reminiscent of a hidden pearl waiting to be discovered within a seashell. With these earrings, you'll be reminded that life's ups and downs can still hold beauty, and that the stars will continue to shine bright.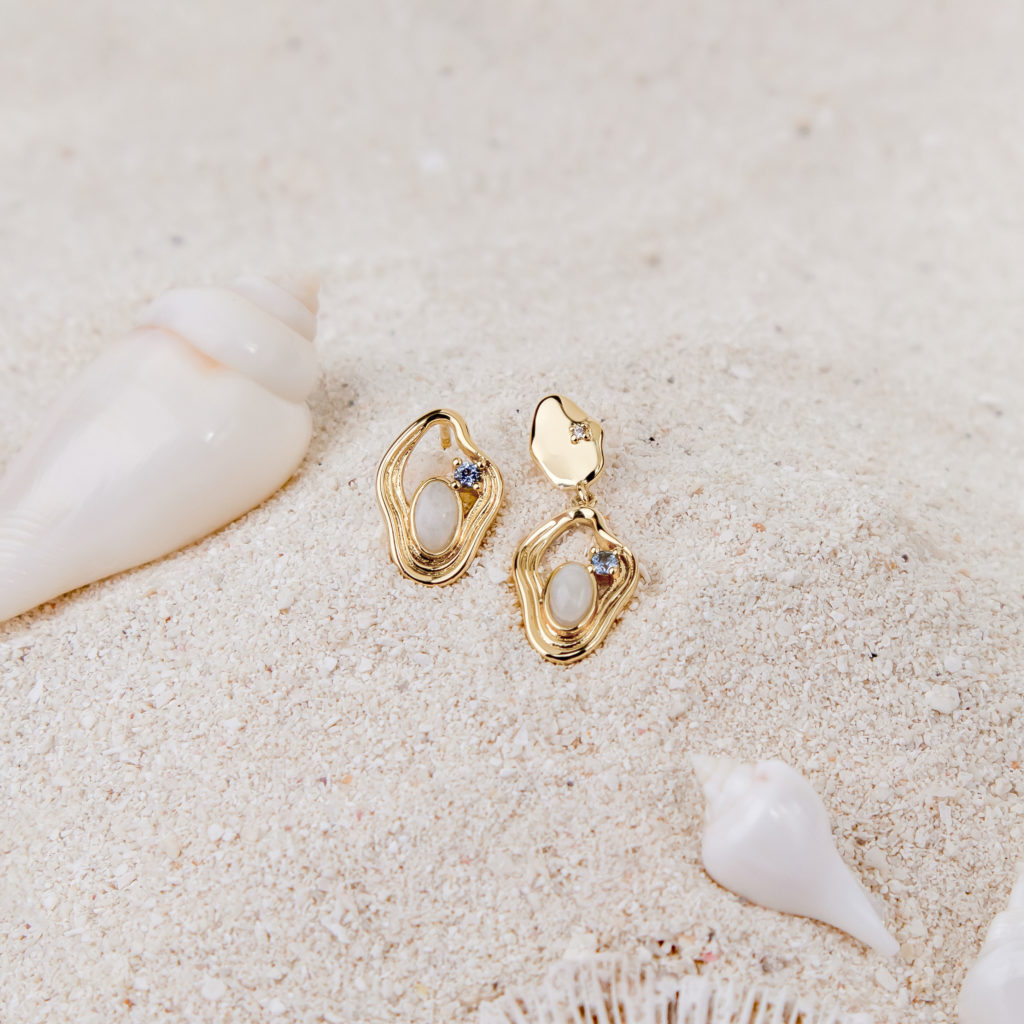 Seashell Gold Necklace
Add a touch of ocean-inspired glamour to your jewellery collection with this 14K gold gilt Seashell Necklace. This spectacular piece features a beautifully crafted seashell pendant adorned with sparkling cubic zirconia gemstones and a delicate freshwater pearl charm hanging from the chain. With the inspiring words 'to the sea' inscribed behind the pendant, this necklace serves as a daily reminder to never stop chasing your dreams.
To The Sea Gold Hand Chain
Dress up your hands with the elegant and sophisticated To The Sea Hand Chain. The chain is perfect for daily wear or on a dream beach vacation. Adorned with organic-shaped freshwater pearls, this gorgeous piece is a stunning addition to any summer wardrobe.
Flow Pearl 14K Gold 925 Sterling Silver Necklace
Experience the mesmerising beauty of the sea with the Flow Pearl Necklace, featuring a beautifully crafted organic-shaped sliding pendant. This necklace is inspired by the organic shapes found in nature by the sea. The sliding pendant reveals a layer of stunning mother-of-pearl that can be engraved, adding a personalised touch to this already exquisite piece.
To The Sea Gold Body/Waist Chain
Transform your beachwear into a statement outfit with the To The Sea Body Chain. Featuring a line of mini organic-shaped freshwater pearls, the chain adds a touch of natural beauty to any casual outfit. The adjustable chain length makes it suitable for all body shapes and sizes, while its versatility allows it to double up as a necklace, worn at various lengths, or as a bracelet depending on your desired look.

—
Please note that some of the links in this post may be affiliate links and any purchase made through the links will give us a small commission (at absolutely no extra cost to you). These funds help us to keep sharing good vibes through this journal. Please read our Affiliate Disclaimer for more info.