Do you sometimes find yourself focusing on the negative aspects of life? Don't worry, we've all been there. Perhaps people keep telling you to take some time out to meditate, but sitting silently for 10 minutes really isn't your thing. For those who like to be productive while meditating, keeping a gratitude journal is a pretty fun and creative way to remind yourself of the wonderful things in your life.
Gratitude journaling has been shown to have numerous benefits for mental and emotional well-being. It's a way of focusing on the good stuff in life, and it can seriously boost your happiness and overall satisfaction. Not only that, but it helps you to get to know yourself better and understand your own thoughts and feelings.
Plus, taking a few minutes each day to reflect on the positive moments can help you enhance mindfulness, chill out and remind yourself of the important things in life. And here's the best part – it's not only good for you, but it can actually help you build stronger connections with the people in your life by reminding you of all the little things that you're thankful for.
We've put together a list of 14 mind-changing gratitude journals, each one with its own unique vibe. Whether you're into something modern and sleek or prefer colour and illustrations, there's a journal on this list that's sure to speak to you. Not only are these journals super cute and stylish, but they're also a great way to stay focused on the positive things in life.
So, if you're all about cultivating a little extra gratitude in your day-to-day routine, these journals are definitely worth checking out.
---
Gratitude Journal By Annie Tarasova (DreamyMoons)
For those who are unfamiliar with journaling, the Gratitude Journal created by Annie Tarasova from DreamyMoons offers a comprehensive starting point. The journal comprises of informative instructions on the advantages of gratitude, methods to incorporate gratitude into your routine, establishing habits, and gratitude affirmations. This journal instills a sense of love and abundance, cherishing the present and inspiring a transformative outlook on life.
Positive Guidance Journal (Gold) By Pass Around The Smile
The Positive Guidance Journal by Pass Around The Smile features 100 pages of self-discovery prompts alongside beautiful hand-drawn illustrations by artist Kayla Jayne. The journal is the charming creation of actress and positive lifestyle personality, Cleo Massey. If you're feeling a bit stuck in your negative thinking, this journal helps to release all inhibitions and guides you towards positivity, self-love, and manifestation of desires.
Notes to Mindfulness Journal By Intelligent Change
The beautifully-designed Notes to Mindfulness Journal by Intelligent Change is a wonderful tool to help you get started on your journey towards living a mindful life. With prompts curated by mindfulness practitioner, Chelsea Kauai, this journal is aimed at fostering inner peace, artistic self-expression, and gratitude. The journal offers guided weekly and daily prompts that encourage you to enhance your self-awareness abilities and to synchronise your deeds with your core principles and values.
A Day of Gratitude Journal By Mål Paper
A Day of Gratitude Journal is a minimal yet powerful tool to help enhance your sense of fulfilment, happiness, and mindfulness. It prompts you to start each day by identifying three things you are thankful for and taking a moment to fully appreciate the positive emotions associated with each one. At the end of each day, reflect on the positive moments that took place and think about how to make tomorrow better.
Gratitude Journal Sea Mist By Bespoke Press
Based in Bowral, Bespoke Letterpress is one of the world's leading letterpress studios and creators of fine stationery. Besides their collection of stunning everyday stationery and gift wraps, Bespoke Letterpress also creates an exquisite range of journals and planners. The Gratitude Journal is truly a treat for those who want to record a whole year's worth of gratitude and positive moments. The journal is unprompted but it includes inspiring information pages to help you with any writer's block you may experience.
Gratitude Journal By I Am Happy, I Am Here
New to the whole journaling thing? The Gratitude Journal by I Am Happy, I Am Here is perfect for beginners, with easy-to-understand explanations and plenty of examples to help you get the hang of things. With tons of daily prompts, this journal will help you set clear intentions for the day and cultivate a more positive mindset. And to help jumpstart your gratitude journey, they even include a 14-Day Gratitude Challenge Booklet. So, if you're ready to start feeling more thankful and appreciative, this journal is a great place to start!
Gratitude Journal – Brings You Joy By Designworks Ink
Develop a habit of kindness with the Designworks Ink Gratitude Journal. This journal is filled with over 150 pages of guided prompts to help you along your journey towards mindfulness. Take a few minutes each day to reflect and destress with gentle prompts for daily thoughts, goals, and gratitude. The compact size of this journal makes it easy to bring along on trips and adventures, so you can stay on track even while on-the-go.
Positive Outcomes Journal By Gentle Habits
The Positive Outcomes Journal by Gentle Habits is founded on the idea that it takes about 66 days to form a new habit. This journal aims to help you cultivate a habit of journaling by including 66 pages where you can jot down the moments you're grateful for, the habits you'd like to adopt, and your progress towards your goals. The journal provides easy prompts to inspire your daily journaling practice, so you can achieve the best positive outcomes. With this journal, you'll be on your way to creating a new habit that can transform your life.
Daily Gratitudes – Abstract Floral By Collective Hub
With the Daily Gratitudes journal by Collective Hub, you can easily make gratitude a part of your daily routine. Filled to the brim with journaling tips, inspiring quotes and clear prompts, this journal provides a moment of respite from the hustle and bustle of everyday life. By taking a moment to focus and write about the positive moments each morning and evening, you'll experience a shift in perspective that can help you cultivate a more positive outlook on life.
Gratitude Journal By Botanical Trader
This luxurious linen journal designed by Claire Charters of Sugarloaf Cottage is the perfect tool for anyone seeking a stylish and versatile way to capture their thoughts and musings. With 360 smooth blank pages to write on, this journal is ideal for freestyle journaling and for allowing your creativity and thoughts to flow freely. On the first page, you'll find helpful instructions from Claire to get you started on your journey. By making gratitude a habit and taking mindful moments to reflect on your experiences and discoveries, you can create a meaningful ritual that brings more happiness into your life.
Guided Gratitude Journal By Intrinsic
The happy and colourful Guided Gratitude Journal by Intrinsic is the ultimate mood-lifting tool to support your journaling practice, featuring three distinct sections to help you dive deeper into gratitude. With guided questions, you'll explore different areas of your life and discover new things to be grateful for. The freestyle journaling section offers blank and lined pages, allowing you to record your daily moments of gratitude in any way you choose. Plus, the Monthly Insights section provides specific prompts to encourage reflection and celebrate positive changes. This journal is like a guiding light, offering both the freedom to write as you wish and helpful prompts to inspire you along your gratitude journey.
Gratitude Journal – Desert Dream By All Things Me
This is one for the free spirits! This gratitude journal by All Things Me is your own personal sanctuary to jot down all the things that make you feel blessed and grateful every day. With its chic and cozy design, it's the perfect companion for you to unwind and fill out whenever you want, wherever you want – there are no specific schedules you have to stick to. It's a place where you can show yourself some love, reflect on your values, and spread kindness. Plus, it's packed with heaps of pages for you to fill up with your thoughts and musings, and contains 29 inspiring quotes to keep you motivated. So, kick off your shoes, grab your favourite pen, and let your gratitude soar!
Gratitude – Wellness Activities Journal By True Series
This bright and sunny gratitude journal has a collection of exercises, prompts, vignettes, and quotes designed to help you explore the concept of true gratitude and discover what it means to you. The journal includes inspiration and engaging exercises to encourage personal reflection and planning, with the ultimate goal of helping you give yourself more of what you need and value.
Little Daily Thanks Gratitude Journal By Papier
Papier's extensive range of gratitude journals offer daily prompts and monthly check-ins to help you develop a fun gratitude practice. With uplifting affirmations, tons of activities, and inspiring mottos, you can find joy in any situation. There are five months' worth of entries to fill at your own pace, morning and evening prompts for mindful moments, 30-day reflections to record thoughts and feelings, and inspiring activities to cultivate gratitude.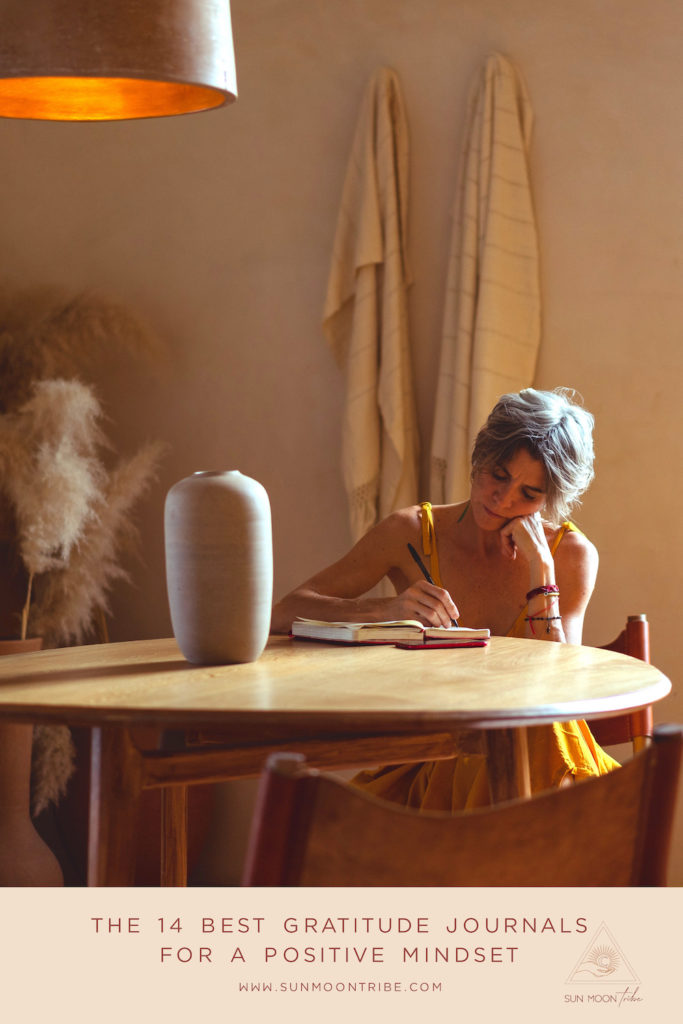 —
Please note that some of the links in this post may be affiliate links and any purchase made through the links will give us a small commission (at absolutely no extra cost to you). These funds help us to keep sharing good vibes through this journal. Please read our Affiliate Disclaimer for more info.