The Moonology Oracle Cards by Yasmin Boland are a beautifully designed set of cards that tap into the mystical power of the moon. As someone who is always seeking new ways to connect with the universe, I was immediately drawn to these cards and couldn't wait to explore their messages.
With 44 cards in the deck, each featuring unique artwork and guidance, this oracle deck offers a powerful tool for anyone looking to deepen their spiritual practice and gain insight into the energies of the moon. In this Moonology Oracle Cards review, I'll share my experience using the deck and whether it truly lives up to its magical reputation.
Quick Links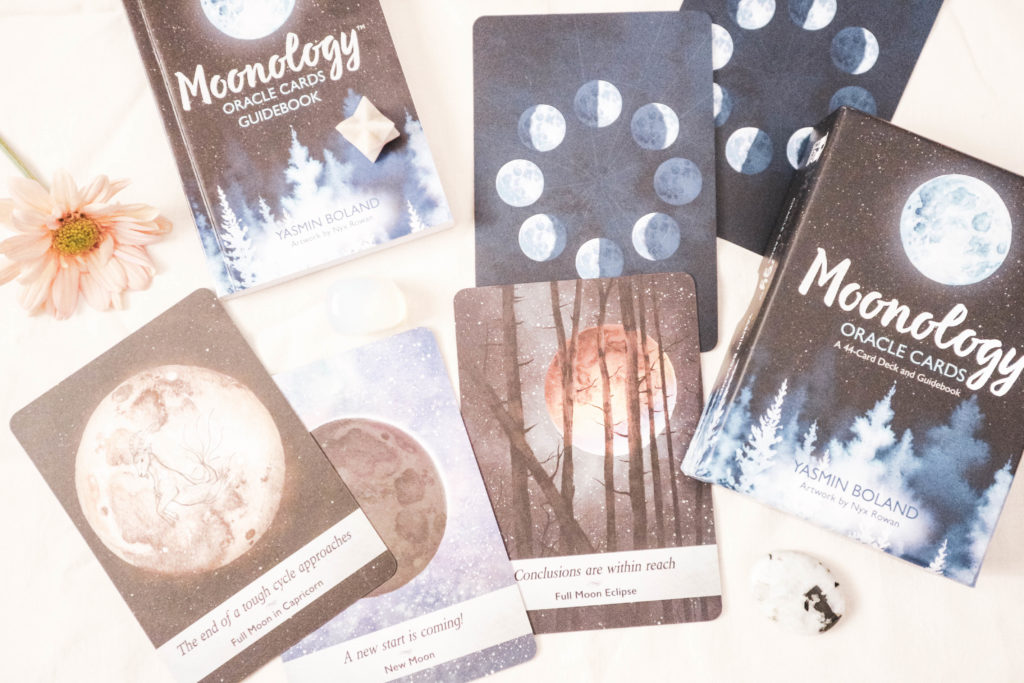 Design and Artwork of Moonology
Each of the 44 cards in the deck features a captivating moon-related illustration by artist, Nyx Rowan. Nyx's illustrations are intricate and detailed, with each moon phase and astrological sign represented in a unique and beautiful way.
The Full Moon illustrations are seriously gorgeous, with bright, vivid colours that make the Moon shine in all her glory. My absolute favourite part, though, are the astrological sign illustrations that fit into the theme of the cards so perfectly. It's a delicate touch that adds to the beauty of the whole set. Plus, there are a few cards that have dreamy sceneries that transport you to a magical place. For example, the Mutable Moon card shows raging waves under a starry sky and makes me feel like I'm actually standing near the ocean.
The illustrations alone would be enough to make this set amazing, but there's more! Each oracle card has a key phrase, which you can use to interpret the cards with your own intuition. And if you need a little help, the guidebook is well-written and detailed enough to answer any questions you may have.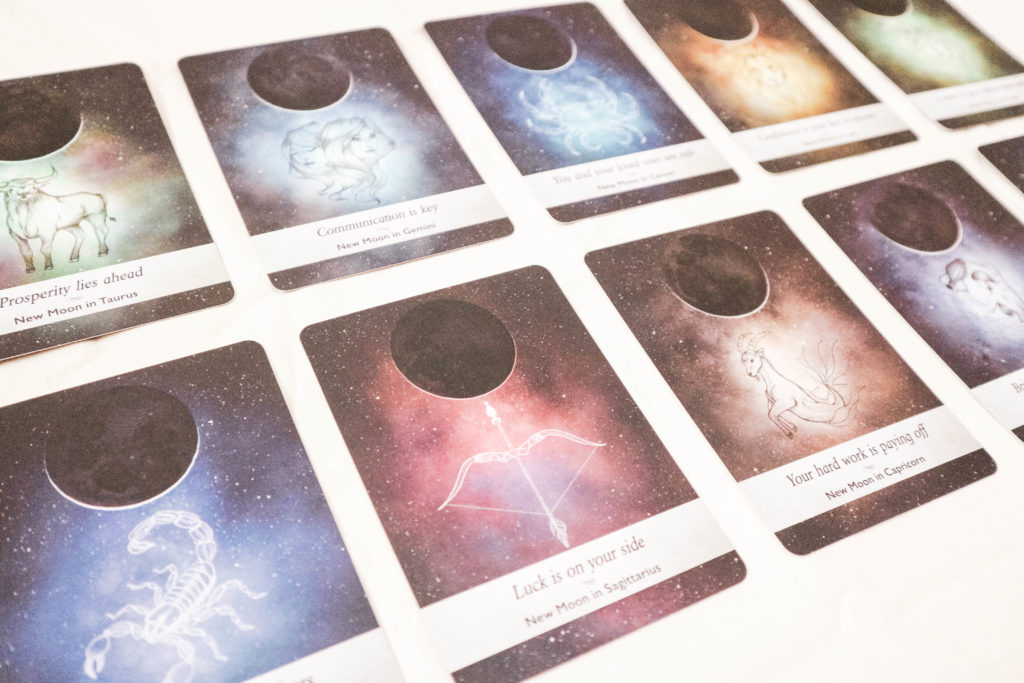 Card Quality and Durability of Moonology
The Moonology Oracle Cards are made with high-quality cardstock that feels satisfying to use. With a comfortable size of 90x126mm, the cards provide the perfect canvas for the stunning artwork. I love that the cards have a smooth matte finish which makes shuffling both easy and tactile. Furthermore, the deck comes in a protective hardcover cardboard box that keeps the cards in excellent condition. This sturdy feature makes the Moonology Oracle Cards an ideal tool for daily practice, tarot readings, manifestation rituals, and travel.
Guidebook and Interpretation of Moonology
Using the Moonology Oracle Cards is all about tapping into your intuition and trusting the messages you receive. Written by award-winning astrologer and author, Yasmin Boland, the guidebook provides detailed yet easily digestible information, making it perfect for beginners. I found this guidebook incredibly useful for learning about the Moon. The in-depth introduction section covers everything from the purpose of the cards to how to bless them, as well as working with the cards and the various moon phases.
What's particularly great about these cards is that they provide you with the exact messages you need to hear, no matter what phase the Moon is in. With 44 cards in total, each with its own unique advice, meaning, and teaching or lesson, you'll gain a comprehensive understanding of the Moon and her cycles.
Whether you're a beginner or expert, the Moonology Oracle Cards offer a fantastic way to learn about working with the Moon.
Preview of the Moonology Oracle Cards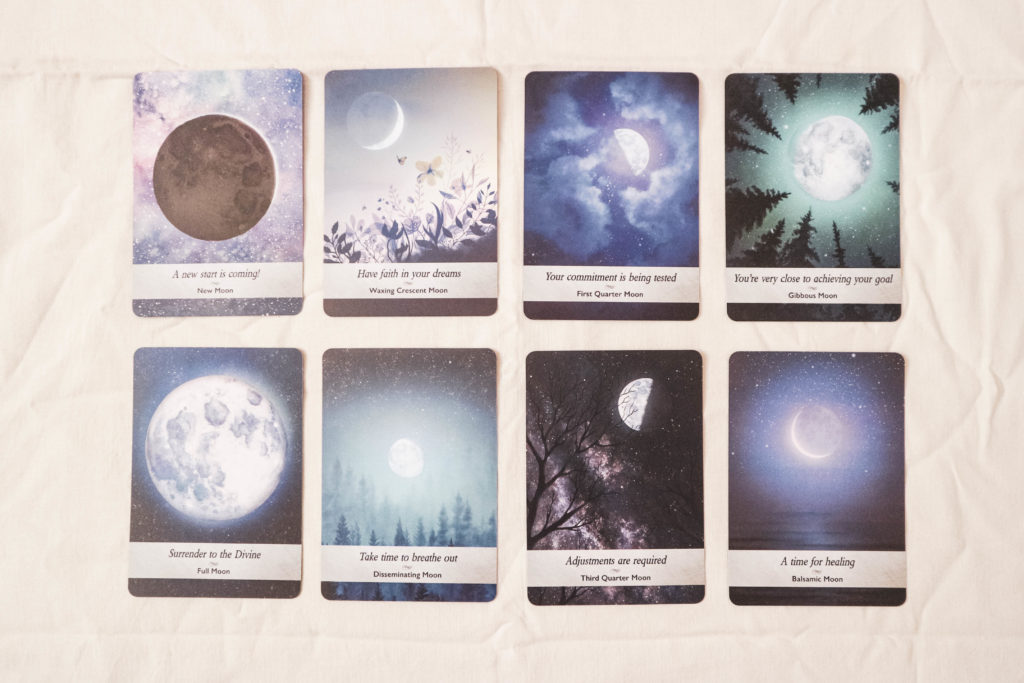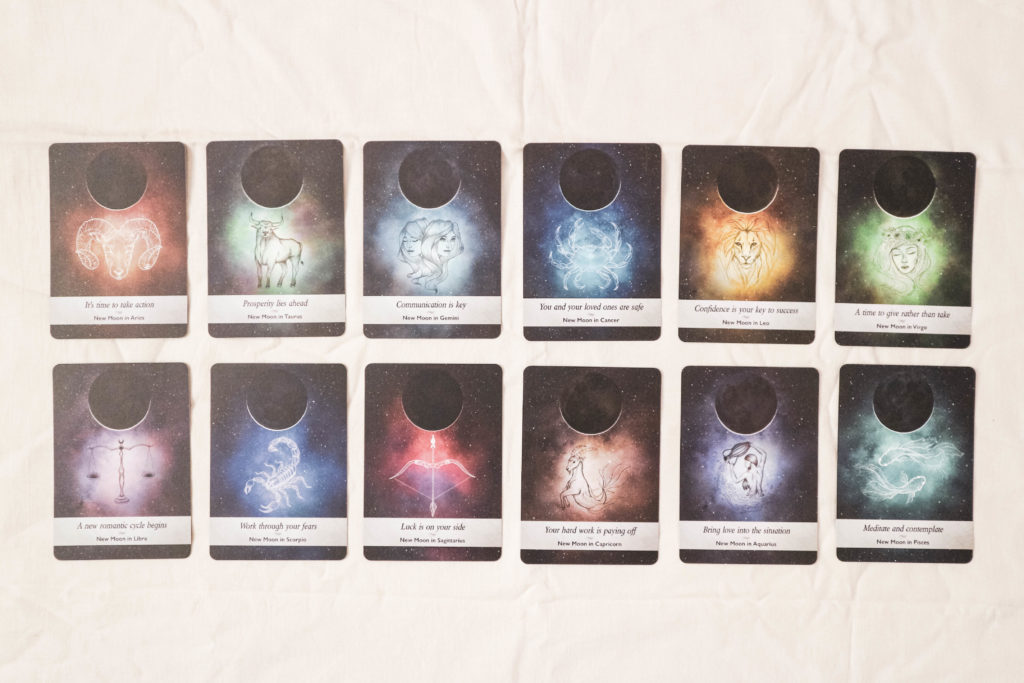 Overall Impressions of Moonology
In summary, the Moonology Oracle Cards are an excellent tool for gaining insight and guidance on a range of questions. First off, I have to say that the accompanying guidebook is an absolute gem! It not only provides a detailed understanding of the cards themselves, but it's also an invaluable reference for anyone wanting to learn more about the Moon. And let's talk about the cards – they're simply stunning! The quality is amazing and the artwork is truly a sight to behold. But it's not just about the looks – each card is thoughtfully designed to offer deep meaning and teachings.
What I love most about this set is that it's accessible to everyone, regardless of their knowledge of moon phases. The guidebook does a wonderful job of breaking down information in an easy-to-understand way, so you can get started right away. Additionally, the guidance you'll receive from these cards is spot-on! They've helped me gain insight and clarity on a range of questions and situations.
Overall, I can't recommend the Moonology Oracle Cards enough. Specifically, for those looking to tap into their intuition and connect with the power of the Moon. I can confidently say that these cards are the perfect learning tool for anyone looking to deepen their understanding of the Moon and her cycles.
Where to Purchase Moonology Oracle Cards

—
Please note that some of the links in this post may be affiliate links and any purchase made through the links will give us a small commission (at absolutely no extra cost to you). These funds help us to keep sharing good vibes through this journal. Please read our Affiliate Disclaimer for more info.
Related Articles