Are you searching for the perfect tarot card necklace? Tarot symbolism has undoubtedly gained popularity over time, as people incorporate spiritual symbolism into daily life. In particular, the intricate designs and rich symbolism of tarot cards have inspired countless works of art, literature, and spirituality.
In Australia, a number of talented jewellery designers have been creating beautiful pieces featuring tarot-related imagery, from delicate pendants to bold statement necklaces. Thus, tantalising us with a plethora of captivating tarot card necklace options! Aesthetics aside, these contemporary designers also focus on factors such as sustainability, sourcing hypoallergenic materials and personalisation.
In this article, we'll delve into the fascinating world of handmade jewellery and tarot symbolism. Join us as we take a closer look at 7 talented Australian jewellery designers. These skilled artisans are creating stunning and unique jewellery pieces that celebrate the beauty and mystery of the tarot, whilst infusing them with their own creative style and vision.
From personalised pendants to ethically crafted tarot card necklaces featuring iconic tarot imagery, these designers are redefining what it means to wear a piece of jewellery with spiritual significance.
SixD The Label
For those with sensitive skin, finding beautiful jewellery that doesn't cause irritation can be a challenge. That's where SixD The Label comes in. Based in Sydney, this jewellery brand has a mission to create pieces that are both hypoallergenic and comfortable to wear. You can wear these gorgeous pieces all day, every day, without worrying about water damage or tarnishing.
SixD's founder, Daisy, has a deep fascination with symbols and mysticism, which is reflected in the intricate and original designs of the brand's jewellery. Among their collection, you'll find beautifully crafted tarot card pendants, available in both 14K gold filled and sterling silver. Each piece is ethically handmade in SixD's Sydney studio, ensuring the highest quality and attention to detail.
The Affirmation Company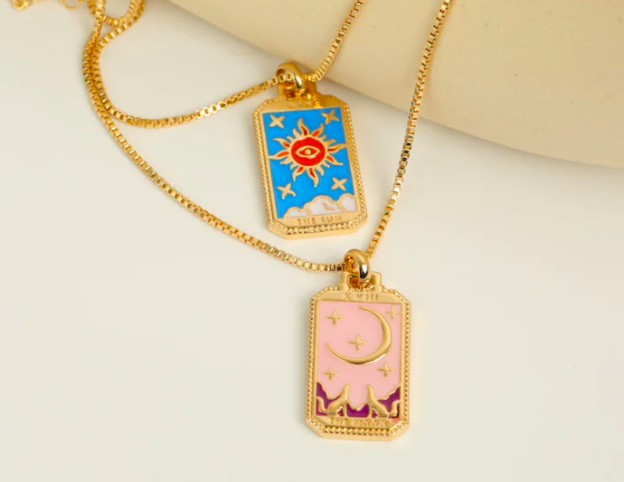 Looking for a tarot card pendant with a pop of colour? Look no further than The Affirmation Company, a Sydney-based brand that offers two vibrant designs featuring The Sun and The Moon. The Affirmation Company plates these beautiful pendants with 18K gold and designs them to be waterproof, tarnish-free, and durable. What's more, these designs are original and exclusive to The Affirmation Company, so you won't find them anywhere else.
The Affirmation Company created the affirmation jewellery collection to inspire and empower individuals to become the best version of themselves. Each piece serves as a daily reminder of how amazing you are.
Tree Of Life
Having been an iconic Australian bohemian brand since the early 90s, Tree of Life's roots are firmly planted in Sydney's vibrant culture and is known for its magnificent range of bohemian clothing and homewares. Tree of Life's captivating collections embody the beauty of creativity, the power of individuality, and the liberation of spirit.
The brand offers a range of stunning tarot card pendants available in both gold and silver. These pendants are carefully crafted by highly skilled artisans in India. Each pendant features intricate etchings and beautiful inset stones that make each piece absolutely unique and full of meaning.
Henesii
Sun-worshippers, this one is for you. You're sure to fall in love with Henesii's stunning handmade pendant and necklace, featuring the vibrant and optimistic Sun tarot card. This tarot card necklace is a must-have addition to any wardrobe, adding a touch of beauty and inspiration to your everyday look. Designed in Australia and crafted in their small workshop in Bali, this necklace boasts a unique blend of style and sustainability that's sure to turn heads.
Made from recycled 925 sterling silver and plated with 18K gold, this piece is not only visually stunning, but also eco-friendly. Whether you're a fan of The Sun's warm and positive energy or simply love its symbolic significance, this necklace is the perfect way to add some mysticism to your outfit. Wear it alone or layer it with other pieces for a truly unique look. But, either way, it's sure to become a staple in your jewellery collection.
S-kin Studio Jewelry
If you want jewellery that resonates with your soul, then S-kin Studio Jewelry's Tarot collection is the perfect choice. Drawing inspiration from the enigmas of the Zodiac, this collection offers an opportunity to explore your innermost self and connect with your intuition.
Designed with love in Melbourne and crafted with care using jeweller's brass and gold filled, these tarot card necklaces are as beautiful as they are meaningful. The organic oval shape is unique to S-kin Studio, making this piece truly one-of-a-kind. These necklaces have a long-lasting durability that makes them a valuable addition to any jewellery collection. Hypoallergenic, irritant-free, and tarnish-resistant, they're the perfect choice for everyday wear.
United Bracelets
Looking for a pendant that's as unique as you are? Check out United Bracelets in Melbourne. With their personalised tarot card pendants, you can express your unique style and personality in a statement-making way. With options for both stainless steel and 925 sterling silver, as well as 18ct gold or rose gold plating, you can create a distinctive piece that reflects your personal style.
But that's not all – the best part is you can add a custom inscription to the reverse side, making it a thoughtful and personal gift for yourself or someone special. No matter which one is your favourite tarot card, express your style through The Sun's good fortune or The Moon's mysteries.
Wanderlust + Co
Founded in Australia, Wanderlust + Co is a global jewellery label inspired by intuition and individuality. Inspired by the mysteries of the cosmos, Wanderlust + Co's tarot card necklaces first hit the market in 2019 with their popular La Luna and L'Etoile Tarot Necklaces. These designs were born from the creative minds of their design team, who intricately etched symbolic details onto each pendant.
Wanderlust + Co is dedicated to creating handcrafted jewellery pieces of exceptional quality, and their tarot necklaces are no exception. Each piece is made with lead and nickel-free brass or sterling silver, plated with 14K gold and rhodium, and features an e-coating to ensure the pieces maintain their lustre. Their team of talented artisans mix and hand-paint enamel colours onto each tarot design, making each piece truly unique.

—
Please note that some of the links in this post may be affiliate links and any purchase made through the links will give us a small commission (at absolutely no extra cost to you). These funds help us to keep sharing good vibes through this journal. Please read our Affiliate Disclaimer for more info.