If you're looking for yoga retreats in Australia, you'll be spoiled for choice by the country's stunning natural landscapes. With its breathtaking white sandy beaches, tranquil hills and bushland, Australia is the ideal destination for a refreshing yoga retreat.
Whether you're seeking relaxation or a chance to recharge, immersing yourself in the beauty of the country's natural surroundings will help enliven your mind, body and soul. So why not consider one of the many yoga retreats in Australia for a truly transformative and rejuvenating experience?
No matter if you're a seasoned yogi or just starting your journey, a retreat is always a good idea. It provides the perfect opportunity to breathe in some fresh air and feel the gentle breeze on your skin. At the same time, the tranquil surroundings will transport you to a place of inner peace and serenity.
The best yoga retreat experiences are those that are tailored to your desires. Whether you're craving pure relaxation, an exciting adventure, or a delightful mix of both, there's a yoga retreat waiting for you in Australia.
Here are our top picks for 7 blissful yoga retreats in Australia from BookYogaRetreats. These retreats were chosen because they offer the perfect blend of yoga, leisure activities and rest. We've handpicked some truly unique experiences, from serene sailing to eco-friendly farms nestled in nature's embrace.
Yogis, get ready to unroll your mats and unwind, recharge, and connect with nature in these serene havens.
3-Day Finding Stillness and Calm Weekend Meditation and Yoga Retreat at Billabong Retreats, NSW
If you're looking for the ultimate eco retreat near Sydney, you'll find it at Billabong Retreats. Located in the serene region of Maraylya, just a 45-minute drive from the bustling CBD, this retreat offers the perfect escape from the chaos of city life. Billabong Retreats is built alongside a natural billabong surrounded by native flora and fauna.
Every 4 weeks, Billabong Retreats hosts its Finding Stillness & Calm Weekend Meditation Retreat. This retreat caters to all levels of yoga and meditation experience. You can expect daily yoga classes, as well as alternate evening meditations and special workshops that delve into the history and various types of meditation.
You'll also receive plenty of tips on how to make meditation easy and establish a regular practice. To add to your relaxation, the retreat provides additional beauty treatments, including massages, facials, and reiki, all set in the beautiful and serene bush surroundings.
3-Day Margaret River Yoga Holiday with Untamed Escapes, WA
Time for a break from modern-day life? Consider escaping to the Margaret River region for a rejuvenating wellness and yoga retreat. Surrounded by the natural beauty of the region, this off-grid glamping retreat offers the perfect balance of indulgence and self-care.
During your stay, you'll have the opportunity to replenish your mind and body with daily yoga and meditation classes led by local practitioners. You'll also have the chance to unwind and absorb the magnificent scenery of the region by going on enjoyable hikes. As you immerse yourself in the region, you'll find yourself feeling more connected to your mind, body, and the land.
Foodies, you will rejoice at the chance to indulge in the freshest local produce. The program includes visiting iconic markets and supporting local makers and growers. For those with a passion for cooking, a spice masterclass is also on offer. And, of course, no trip to the Margaret River region would be complete without sampling some of the area's renowned wines.
4-Day Lemurian Dreaming Yoga Retreat with Samadhi Flow Yoga in North Stradbroke Island, QLD
For those searching for oceanside yoga retreats in Australia, the Lemurian Dreaming Yoga Retreat by Samadhi Flow Yoga is perfect. Located on idyllic North Stradbroke Island in Queensland, the retreat is designed to help you connect with your inner self. Discover how to awaken your divinity and how to heal your body, mind and spirit.
The retreat offers many practices like yoga, meditation, and massage, plus a ceremony for deep healing. You'll also have the opportunity to try out liquid bliss yoga, heart breath, sound journey, ecstatic dance and somatic movement. The island's serene vibes are ideal for healing, rediscovering your inner self, and sparking your creativity.
To make the most out of the beautiful location, most of the yoga classes take place on the beach. If you're lucky, you may get a glimpse of the natural wildlife, including whales, dolphins, turtles and manta rays. The retreat also provides delicious organic plant-based meals to nourish and energise the body and mind while you're there.
3-Day Wellness Weekender Yoga Retreat at Rolling Hills Retreat, NSW
Rolling Hills Retreat is a home-style retreat centre located in Pearces Creek – a stone's throw away from Lennox Head, Byron Bay, Lismore and Ballina. Surrounded by gorgeous green rolling hills, farm animals and nature, comfort and relaxation is the main focus at Rolling Hills Retreat. It is the perfect place for a weekend getaway to help you unwind from a busy lifestyle.
Wellness retreats are hosted throughout the year and offer a variety of activities aimed at promoting wellness, including yoga classes, meditation sessions, and themed workshops that are available throughout the day. Guests can also participate in fun and interactive activities like walks, creative sessions, and fire pit ceremonies.
The comprehensive program provides the ultimate slow living experience, catering to both first-time and experienced retreaters alike. Whilst the retreat has a schedule and program, you are free to choose which activities you want to participate in.
4-Day Deep Rest Yoga Retreat with Massoga® Massage Yoga, VIC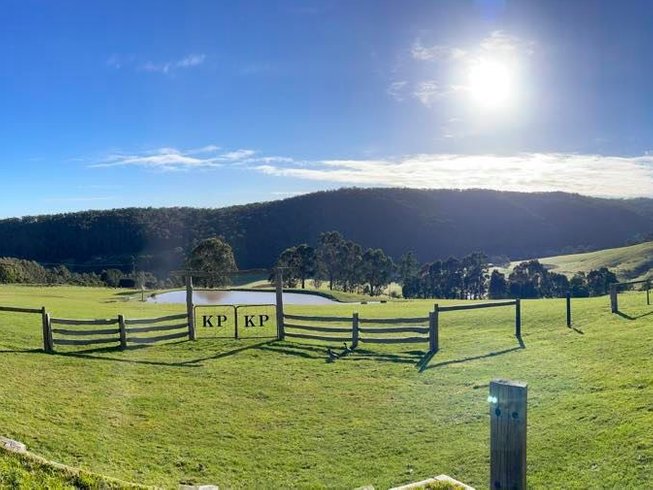 Are you in need of a four-day break filled with relaxation and pampering amidst the picturesque Otway Ranges? If yes, then you should consider the Massoga® Massage Yoga Retreat at the King Parrot Retreat Centre. This retreat centre is situated in the stunning Pennyroyal Valley, near the Great Ocean Road and Lorne in the Otway Ranges.
During this retreat, you will have the opportunity to incorporate rest into your daily routine naturally, making it practical and sustainable for your lifestyle. Having dedicated time away from your daily routine is an incomparable experience.
This retreat offers a gentle schedule, including Massoga® slow flow yoga, meditation, sound bathing, and nature walks, which will help you unwind and destress. Moreover, the entire 200-acre property, including a walking track, is at your disposal. The track offers a chance to stroll through the rainforest environment of Aquila Creek, where you can enjoy a picturesque waterfall and witness giant ferns and enormous native trees.
Do you have a soft spot for animals? You'll be surrounded by an array of wildlife on the premises, from native birds and kangaroos to wallabies and echidnas. Additionally, you'll have the opportunity to interact with the property's resident horses and donkeys.
4-Day Unique Yoga and Sailing Retreat in the Whitsundays, QLD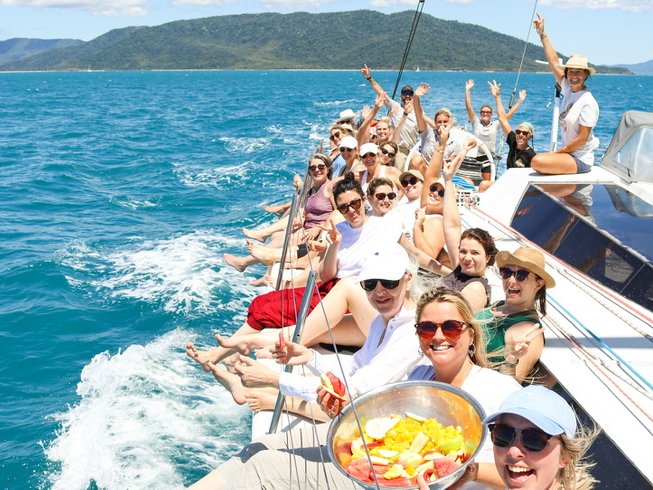 A Wilde Life's 4-day yoga and sailing retreat takes place in the Whitsundays, one of Australia's most spectacular natural wonders. Located off the coast of Queensland, it is renowned for its crystal-clear waters, white sandy beaches, and vibrant coral reefs.
During the retreat, you'll stay on a maxi sailing yacht and spend your days sailing around multiple gorgeous heavenly islands and beaches around the Great Barrier Reef. The program offers a wide range of activities that are sure to please any adventurer.
Starting with daily yoga and guided meditations at various locations, you'll be able to centre your mind and body while enjoying beautiful surroundings. If you're looking for something more thrilling, you'll have the chance to embark on sailing adventures and explore secluded bays and hidden coves.
For those who prefer to keep their feet on solid ground, the program also offers hikes through tropical greenery and up to stunning mountain peaks. And for those who love the underwater world, you can't miss out on the opportunity to go snorkelling or diving in the colourful coral reefs.
When it comes to unique yoga retreats in Australia, this one stands out above the rest. With its unforgettable experience that combines yoga, sailing, and nature in the breathtaking setting of the Whitsundays, A Wilde Life offers a truly one-of-a-kind experience that's hard to find elsewhere.
4-Day Escape Yoga and Wellness Retreat in Benalla, VIC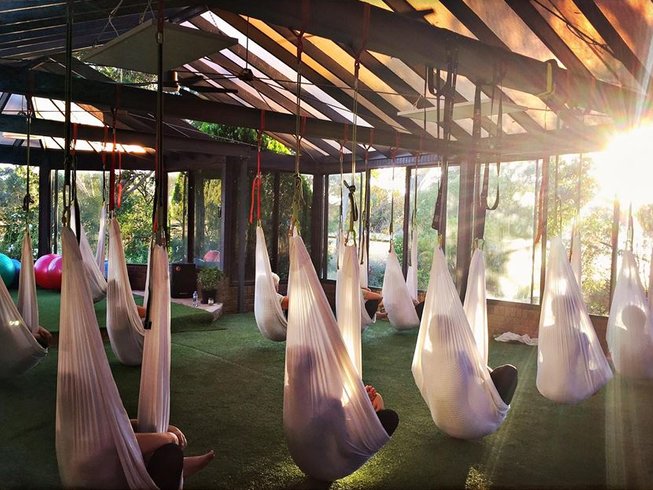 Retreat to Benalla in the tranquil countryside of regional Victoria for a rejuvenating getaway at Little Farm of Calm. This haven was thoughtfully created to provide a stress-free and comfortable experience for everyone. Whether you need to unwind by the pool, try new activities or simply relax and recharge, this is the perfect place for you.
You can choose from a variety of activities, including many different styles of yoga, meditation, Reformer Pilates, and animal therapy, all led by experienced teachers with over 20 years of expertise. Start your day with daily yoga, Pilates, and meditation sessions, or try something different like aerial or paddle board yoga.
Take advantage of the healing benefits of red light therapy and infrared sauna sessions to soothe your body and mind. For the animal lovers, experience the joy of animal therapy as you interact with friendly farm animals.
With an array of activities to choose from, you can spend your time in whichever way your body needs. Enjoy a comfortable stay at Little Farm of Calm and return home feeling refreshed and renewed.

—
Please note that some of the links in this post may be affiliate links and any purchase made through the links will give us a small commission (at absolutely no extra cost to you). These funds help us to keep sharing good vibes through this journal. Please read our Affiliate Disclaimer for more info.