If you happen to be in Western Australia and you're ever in need of some saltwater and idyllic beach inspiration, Esperance is definitely a place I would recommend to help revitalise your soul. Nestled along the Southern Ocean, Esperance is a true paradise for beach lovers, nature enthusiasts, and adventure seekers alike. From the iconic Great Ocean Drive to the awe-inspiring Cape Le Grand National Park, this hidden gem is a haven for those seeking an escape from the hustle and bustle of city life.
Quick Links
Getting to Esperance
It takes on average 8 hours to drive from Perth to Esperance (a bit longer if you take the coastal route). But, this is only if traffic conditions are good. On the day my cousin and I decided to make the long drive across, we encountered multiple roadworks. The worst one was when they blocked off the main highway to Esperance and gave little to no detour signs. What should've been an 8-hour drive turned into 16 hours. The silver lining is that now any road trip under 16 hours seems short to me 😂.
If you want to save on time, you can fly into Esperance from Perth via Rex Airlines. Another option for those who don't want to drive is to use a regional coach from Transwa. In my opinion, having your own vehicle is the best option, as getting around the beaches in Esperance and Cape Le Grand will require driving.
Exploring the Great Ocean Drive
No visit to Esperance is complete without doing the iconic Great Ocean Drive, a 40-kilometre loop that showcases some of the most breathtaking coastal landscapes in Western Australia. On this drive, we were treated to panoramic views of rugged cliffs, secluded coves, and the mesmerising turquoise waters of the Southern Ocean. Each lookout point offered a new perspective, inviting us to pause and soak in the sheer beauty that surrounded us.
Twilight Beach
With its powdery white sands and gorgeous granite rocks, Twilight Beach is a paradise for sun-seekers and nature enthusiasts alike. It's a great beach for swimming, snorkelling and paddleboarding. I loved climbing the rocks and found it to be a perfect spot for meditation and journaling.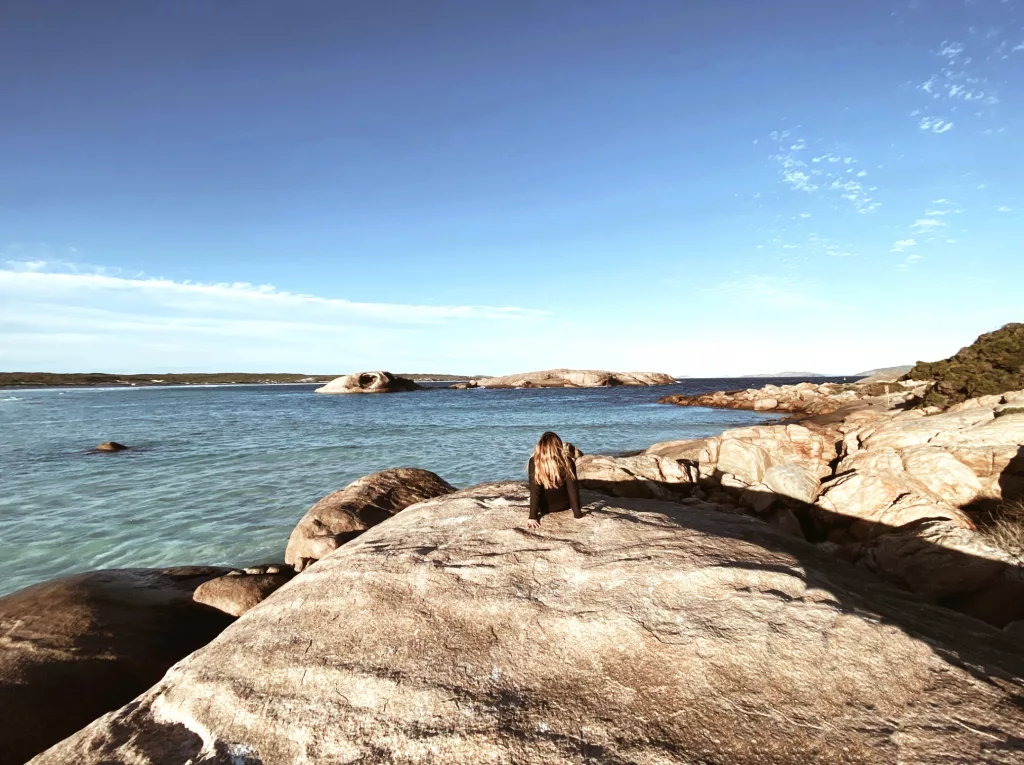 Blue Haven Beach
Whilst I never went down to the beach itself, I was able to admire it from above. How gorgeous is the water?! Tucked away in a secluded cove, Blue Haven Beach exudes an air of serenity and seclusion. The sheltered bay is perfect for swimming and snorkelling, while the surrounding rock formations provide a picturesque backdrop for leisurely walks and peaceful contemplation.
Eleven Mile Beach
Eleven Mile Beach is truly breathtaking. My visit during sunset left me utterly captivated by the awe-inspiring beauty of nature. It's a great place to put your feet up and simply enjoy being present in the moment.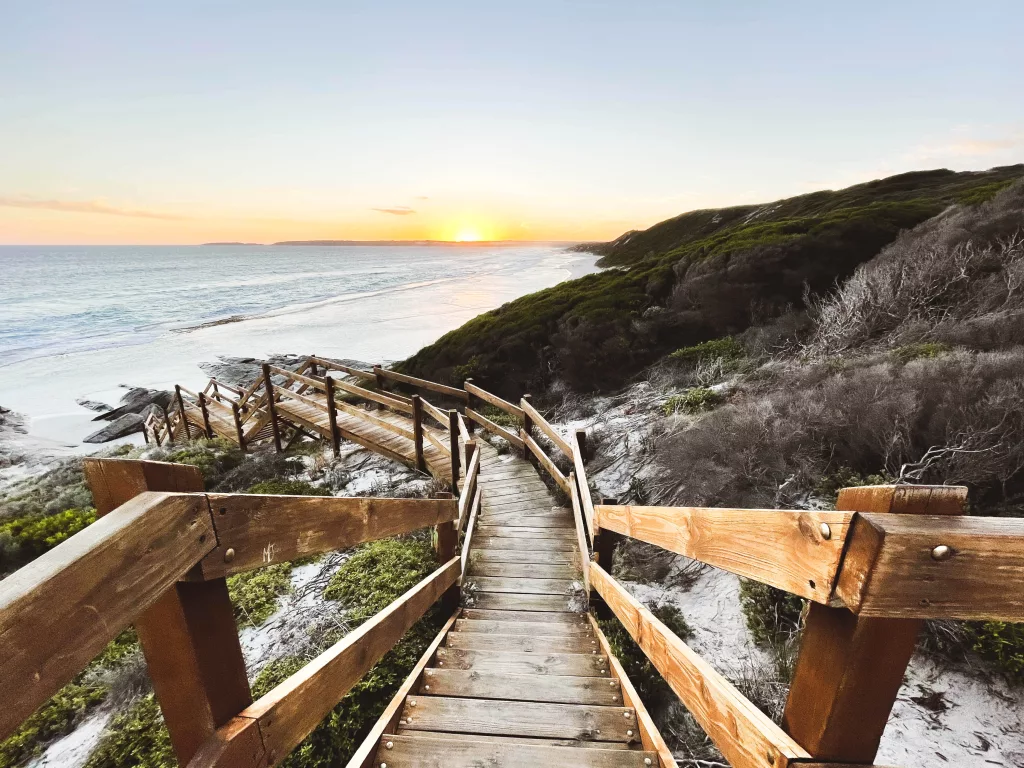 Hellfire Bay
Hellfire Bay at Cape Le Grand stood out as the highlight of my trip. I absolutely adore this beach! Its crystal-clear waters and ultra-white, fine sand (that squeaks beneath your feet) create a captivating experience. Encircled by rugged cliffs and untouched wilderness, Hellfire Bay is a true haven for those seeking solitude and natural splendour. The best thing is if you go during non-peak season, the beach essentially becomes your private paradise to relish in.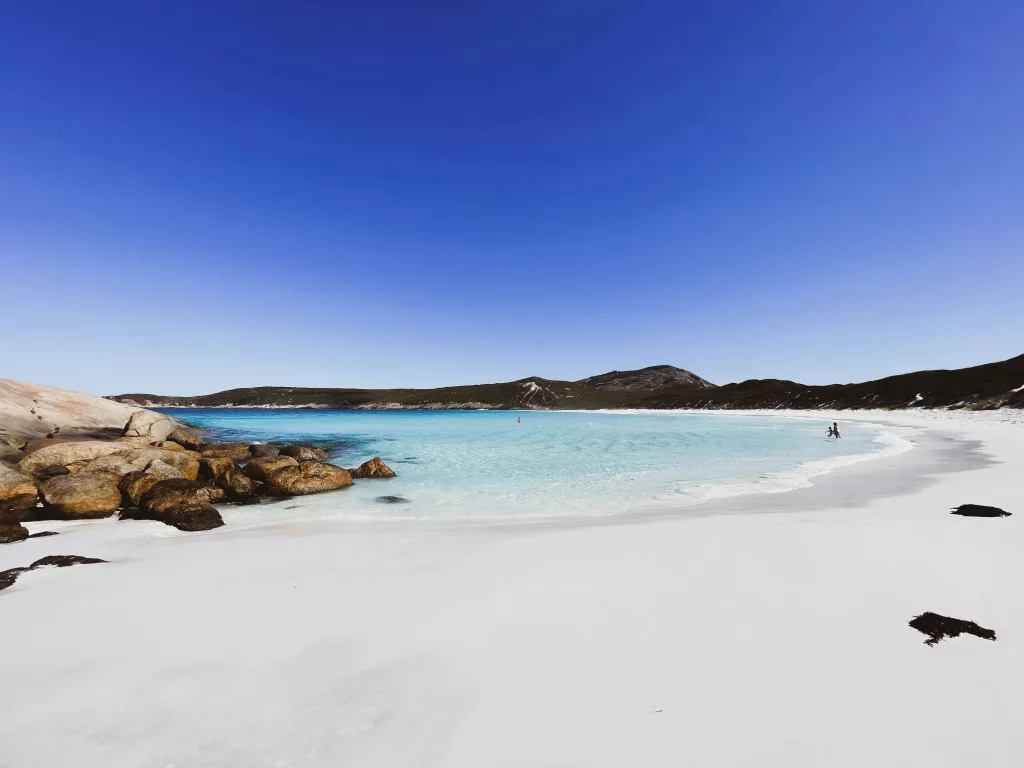 Lucky Bay
Lucky Bay at Cape Le Grand is well-known for having kangaroos play amongst the shore. We encountered some cute roos in the carpark but unfortunately they decided not to come down to the beach that day. But, wildlife aside, Lucky Bay is another gorgeous stretch of beach along the cape. The only thing I wasn't very fond of were the 4WDs that drive up and down the beach. The introduction of vehicles spoils the serenity and makes it hard to enjoy the beach (you're constantly looking out for cars behind you).
In Summary
For those seeking an escape to a world of unspoiled beauty, Esperance is definitely worth the effort. Regrettably, I only had time to visit a few beaches but almost every beach along this side of the coast is stunning. Whether you're drawn to the allure of the iconic landscapes or the tranquillity of the secluded coves, Esperance promises an unforgettable journey that celebrates the splendour of nature in all its forms. And if you're already in the area, taking that extra one-hour to drive to Cape Le Grand is a must!