As human beings, we are more than just flesh and bones. Specifically, we are vibrant and dynamic energy beings, and our chakras are the very foundation of this energetic system. Each of the seven chakras represents a different aspect of our being, from our physical health to our emotional and spiritual wellbeing. In the event that one or more of these chakras becomes blocked or imbalanced, it can lead to a range of issues that can impact every area of our lives.
Furthermore, from physical ailments to emotional distress, a blocked chakra can leave us feeling drained, disconnected, and unfulfilled. That's why it's crucial to maintain a healthy and balanced energy flow in our chakras to achieve optimal health and wellbeing. So take the time to nurture your energy centres and unleash the full potential of your mind, body, and spirit.
In this article, we'll delve into the world of chakras and identify the signs and symptoms of a blocked chakra.
Quick Links
Blocked Chakra? Find Out With This Free Test
To begin with, are you curious to know if you have any blocked chakras? We tried this free 30-second test from Mindfulness Valley and were so impressed by the detailed results we received.
The test is super easy – just answer a few simple questions – and then you'll get a fully detailed video explaining which chakra is blocked. The video also details how to start healing and balancing the blocked chakra.
In addition, it's a great way to understand your body and mind better and take control of your own well-being. We recommend giving it a go, especially if you feel like you may have a blocked chakra.

Understanding the Seven Chakras
Trying to wrap your head around the concept of chakras can be overwhelming. But don't worry, we've got you covered!
In essence, the seven chakras run along your spine from the base all the way up to the crown of your head. Each chakra is associated with its unique colour, sound and vibration. You can think of it as a musical scale for your body!
We've simplified the key locations and representations of the seven chakras for you.
Here they are, in order from spine to crown:
First | Root Chakra
Location: At the base of the spine
Represents: Our foundation, stability, and sense of grounding
Second | Sacral Chakra
Location: Below the navel
Represents: Our creativity, sexuality, and emotions
Third | Solar Plexus Chakra
Location: Above the navel
Represents: Our personal power, confidence, and self-esteem
Fourth | Heart Chakra
Location: In the centre of the chest
Represents: Our ability to love, give, and receive love
Fifth | Throat Chakra
Location: In the throat
Represents: Our ability to communicate, express ourselves, and speak our truth
Sixth | Third Eye Chakra
Location: In the centre of the forehead
Represents: Our intuition, insight, and spiritual awareness
Seventh | Crown Chakra
Location: At the top of the head
Represents: Our connection to the divine, enlightenment, and higher consciousness
To deepen your understanding of each chakra and how to balance them, check out the articles we've written about each one.
Signs and Symptoms of Blocked Chakras
Blocked chakras can trigger a plethora of physical, emotional, and spiritual symptoms, indicating that something is not quite right in your energy centres. To help you identify if you have a blocked chakra, here are some common signs and symptoms to look out for:
Blocked Root Chakra Symptoms
Feeling disconnected from your body or surroundings
Physical issues like constipation, lower back pain, or fatigue
Financial insecurity or lack of stability
Fear and anxiety
Blocked Sacral Chakra Symptoms
Lack of creativity and inspiration
Sexual dysfunction or disconnection
Emotional instability or mood swings
Addiction or overindulgence in food or substances
Blocked Solar Plexus Chakra Symptoms
Low self-esteem and confidence
Difficulty making decisions or taking action
Digestive issues or stomach problems
Control issues or power struggles
Blocked Heart Chakra Symptoms
Difficulty giving or receiving love and compassion
Feeling isolated or disconnected from others
Relationship issues or heartbreak
Respiratory or cardiovascular problems
Blocked Throat Chakra Symptoms
Difficulty expressing yourself or speaking your truth
Social anxiety or fear of public speaking
Thyroid or throat issues
Creative blocks or difficulty communicating effectively
Blocked Third Eye Chakra Symptoms
Lack of intuition or spiritual awareness
Confusion or lack of clarity
Headaches or vision problems
Difficulty manifesting desires or setting intentions
Blocked Crown Chakra Symptoms
Feeling disconnected from the divine or higher power
Lack of purpose or direction in life
Spiritual bypassing or over-intellectualising spirituality
Migraines or neurological issues
How Do I Know if My Chakras are Blocked?
Take control of your chakra health and uncover any blockages by utilising the following techniques. Here are some ways to help you identify which chakra needs your attention:
Chakra Test
You can easily identify which chakra may be blocked by taking advantage of the numerous free chakra tests available online. These tests usually consist of a series of questions that assess your physical, emotional, and spiritual health. We recommend this free blocked chakra test from Mindfulness Valley.
Intuition
Trust your intuition and listen to your body. If you feel a particular physical or emotional issue, it may be a sign of a blocked chakra. For example, if you have digestive issues or stomach problems, it may indicate a blockage in your solar plexus chakra.
Energy Healing Practitioner
To identify a blocked chakra and restore its energy flow, consider seeking the assistance of an experienced energy healing practitioner. They can use various techniques like Reiki, chakra scanning, or intuitive healing to identify which chakra needs balancing.
Chakra Balancing Practices
Once you have identified which chakra needs balancing, you can use various practices to balance it. Here are some effective chakra balancing practices:
Meditation
Meditation is an excellent way to balance and unblock your chakras. You can use guided chakra meditations or focus on the specific chakra that needs balancing. Visualise the chakra turning and spinning, and imagine its colour becoming brighter and more vibrant.
Yoga
Yoga poses can also help balance your chakras. With that in mind, by practicing specific yoga poses, you can activate and balance each of your chakras. It's fascinating to note that each yoga pose is intimately connected to a specific energy centre. For instance, the tree pose is linked to the root chakra, which represents stability and grounding. Similarly, the cobra pose is connected to the heart chakra, which is associated with love, compassion, and emotional balance.
Affirmations
Affirmations are positive statements that can help reprogram your subconscious mind and balance your chakras. You can use specific affirmations for each chakra, like "I am grounded and secure" for the root chakra or "I am open to receiving love and compassion" for the heart chakra.
Sound Healing
Sound healing uses specific frequencies and vibrations to balance and activate your chakras. You can listen to chakra-specific music or use singing bowls, gongs, or tuning forks to balance your chakras.
Maintaining a Balanced Energy Flow in Your Chakras
At the end of the day, maintaining a balanced energy flow in your chakras is essential for optimal health and wellbeing. By understanding the seven chakras, identifying the signs and symptoms of blocked chakras, and using various chakra balancing practices and healing modalities, you can achieve balance and harmony in your life.
Disclaimer: The concept of chakras and energy healing is not supported by mainstream science and should not be used as a substitute for professional medical or mental health advice. The information provided on chakras is meant for educational and entertainment purposes only. If you have any physical or mental health concerns, please consult a qualified healthcare professional.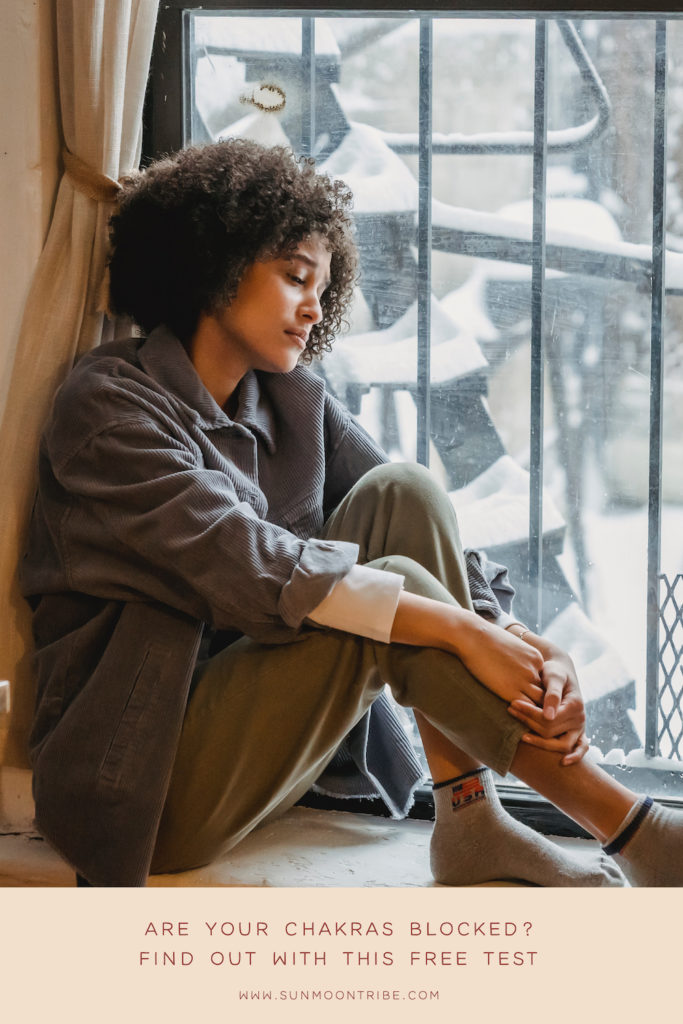 —
Please note that some of the links in this post may be affiliate links and any purchase made through the links will give us a small commission (at absolutely no extra cost to you). These funds help us to keep sharing good vibes through this journal. Please read our Affiliate Disclaimer for more info.